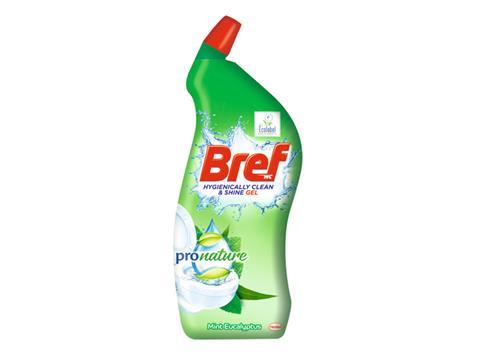 Greiner Packaging has collaborated with Henkel to deliver a new packaging solution for its Bref toilet cleaner brand. The bottles now contain 50% post-consumer recycled polyethylene.
Commissioned for Bref's Pro Nature range, the new pack will replace the black plastic bottles that were previously used to package the range. According to Greiner, the old black plastic packaging products represented a challenge for the recycling value chain due to the black masterbatch used. So, Henkel teamed up with its supplier Ampacet to develop a black plastic packaging solution that is fully recyclable.
As a result, the new packaging material uses an alternative, carbon-free black coloring agent. Thanks to the new masterbatch, the black bottles can now reportedly be correctly identified and sorted by optical sensors at waste sorting plants.
"We want to contribute to more sustainable packaging, both regarding recyclability and the increased use of recycled materials. That's why we are proud to support our partners like Henkel in implementing their innovative and sustainable projects along every step of the way. A truly circular economy can only become a reality if everyone works together," comments Michael Frick, global key account director at Greiner Packaging.
Abdullah Khan, who is responsible for sustainable packaging in the laundry and home care sectors at Henkel, is also excited about the partnership: "Henkel and Greiner Packaging have already implemented a number of innovative packaging concepts together. Our new Pro Nature bottle containing 50% recycled material is a shining example of Henkel's activities to reach our goal to reduce 50% fossil-based virgin plastics by 2025."