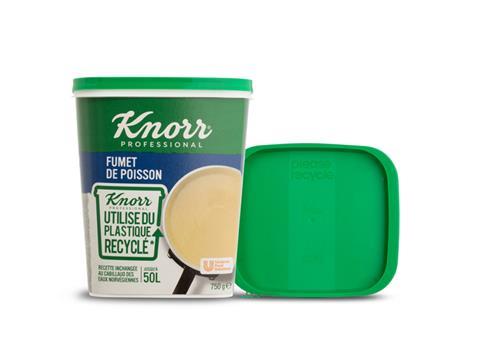 Greiner Packaging has teamed up with SABIC and Unilever in a pilot project to produce 100% polypropylene (PP) tubs and lids for Knorr bouillon powder using post-consumer recycled plastic material.
SABIC's "certified circular" PP material uses post-consumer mixed plastic as a feedstock, which is broken down into its molecular building blocks to create what the company describes as "virgin plastics", which are then used to produce these new recyclable tubs and lids.
The resulting PP polymer is verified and authenticated under the International Sustainability and Carbon Certification (ISCC PLUS) scheme, which uses a mass balance approach.
Knorr bouillon powder has now been marketed in the same cardboard-plastic combination for many years. According to Greiner, the outer appearance, functionality, and safety of the new packaging are exactly the same, and the quality is likewise as high as ever.
From the consumer's perspective, they can still simply remove the cardboard sleeve from the tub itself when the packaging is empty before disposing of the two components as usual.
"By producing some of the tubs from certified circular polypropylene, we want to set a new standard on the market together with our partners and demonstrate what is possible with recycled materials in the food segment. We also want to keep pushing forward with this development.
"Here at Greiner Packaging, we are not only focusing on certified recycled PP – we are also working on our first projects and tests with mechanically recycled PS," explains Jens Krause, sales director at the Greiner Packaging site in Diepoldsau, Switzerland.
"Our goal is to continue making our packaging more environmentally friendly together with partners like Greiner Packaging and SABIC – especially in the food segment – without consumers having to lower their standards in terms of design, performance, quality, user-friendliness, and food safety.
"We are now testing this using material produced from 100% circular polymer, with the goal of expanding across our portfolio by 2025," adds Mike Ross, senior packaging manager at Unilever.