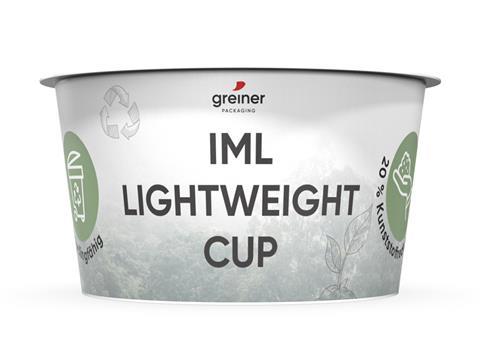 Austrian dairy company Ennstal Milch operates a filling plant for various flavours of Greek yogurt. Greiner Packaging has developed a packaging solution for its products – a cup that it says features an appealing design while reducing the use of plastic.
One aspect of Greiner Packaging's sustainability strategy is reducing its material usage, a goal it has been pursuing for some time now. The company aims to produce packaging that exhibits the same functionality and improved recyclability when compared with previous solutions, in order to cut back on plastic from virgin materials as well as carbon emissions.
Greiner Packaging achieved a material saving of 20% for the new Greek yogurt cup, having reduced the solution's weight by making adjustments to technical conditions in production.
According to the company, this reduction has "absolutely no impact" on the functionality of the cup or its suitability for logistics and filling line systems. Likewise, it is reportedly still just as easy to separate the empty cups and stack the sealed cups filled with yogurt.
As part of its efforts to utilize more renewable materials, Greiner Packaging also offers its customers biocircular plastics on request, such as those made from agricultural production waste.
Because Greiner Packaging is ISCC Plus certified (International Sustainability and Carbon Certification), the company's customers can highlight this on their packaging solutions if their organizations are also certified as part of the value chain.
In addition, customers can use sealing film made of polypropylene so that the cup, IML label, and sealing film are made of the same material.
Philipp Maurer, key account and IML category manager at Greiner Packaging, comments: "The new, lighter-weight IML cup for Greek yogurt is a great example of Greiner Packaging's dedication to reducing material usage and the weight and carbon savings that come with it.
"The fact that we also make products from renewable materials on request, which in turn are 100% recyclable, is completely in line with our sustainable mindset and our mission to actively advance the transition to a circular economy."