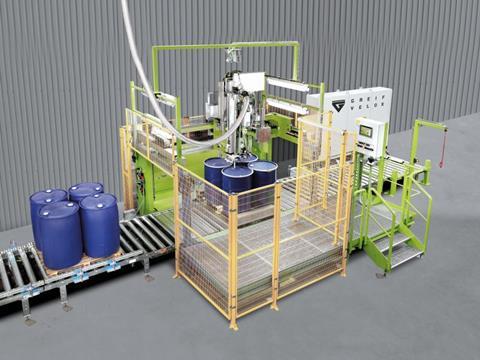 Through the use of innovative camera technology, GREIF-VELOX is setting new standards when it comes to filling sensitive chemical, petrochemical, and building material liquids.
"The efficient and reliable filling of liquids is a task that carries with it many individual demands – especially when it comes to safety. Our engineers and research and development department are constantly working on meeting these specific demands on a tailor-made basis for each product environment," explains Ralf Drews, managing director of GREIF-VELOX. "With the innovative use of camera technology in particular, we are raising the process reliability and process performance of our systems."
Adaptable and easy to use
Since not every container is suitable for every liquid, GREIF-VELOX has solutions to fit every product and every container. The type A-DOS-P1 fully automatic pallet filling system by GREIF-VELOX is designed for filling palletised containers using the below-bunghole, below-surface, and above-surface processes, as well as products with low to high viscosity (1 to 50,000 mPas at 20°C). This makes it suitable for a wide range of different product properties and container types, such as bunghole-type drums or intermediate bulk containers (IBCs). In addition, filled containers do not need palletising after filling, which increases efficiency and safety in further process flows.
The two-axis system can be equipped with up to four work stations. These stations can be fitted with up to four process functions as required:
• Screws: Automatic opening and closing of containers with a screwdriver, which automatically adjusts and documents the torque needed to open and close Tri-Sure closures for drums. In addition, when it comes to being filled with heated products, a special overpressure screw cap prevents the drums from imploding after filling as a result of any realised overpressure in the drum prior to it being screwed shut.
• Rendering inert: The oxygen concentration is reduced here in order to prevent an explosion and to protect sensitive products against contact with atmospheric oxygen. This means that almost all conceivable products can be filled in zone 1, the explosion-risk area.
• Filling: Depending on the product and container, there are a number of different filling processes that can be put into operation. This also makes it possible to fill foaming products with a below-surface unit.
• Clinching: With a fully automatic clinching unit, it is possible to apply TabSeal® tamper-evident closures to the containers.
The two-axis design allows for the option of using the system either as a stand-alone system or with a range of pallet conveyor systems, such as roller or suspension chain conveyors. Notwithstanding the above, the machine can be connected bidirectionally to the customer's ERP system. This means that orders can be very easily placed via a touch screen and the filling results documented, or it can be programmed to interact directly with the customer's process system – for product supply or system service purposes, for example.
Knowledge is good, control is visibleA special role is played by the integration of innovative camera technology, which opens up diverse and nuanced application possibilities. For example, a full-screen digital camera with BRIS (Bunghole Recognition Identification System) ensures fast, reliable, and simultaneous detection of all filling openings for containers on pallets. This helps the systems identify not only which container opening is involved, but also whether the containers are open or closed.
In addition, the camera technology being implemented can be used to ensure the prescribed positioning of labels, including the detection of identification codes and their comparison with standard values. A distinctive feature that comes with using GREIF-VELOX camera systems is the patent-pending "drop control" after each filling operation.
To guarantee the safety of subsequent processes, this screening is particularly important when it comes to filling corrosive or toxic liquids. "In addition, we also implement complete safety concepts, including system enclosure, light beam safety devices, door locking systems, and collecting tubs with monitoring. Our goal is to ensure our systems deliver a high degree of occupational safety, a striking level of performance, and high product quality," says Ralf Drews, managing director of GREIF-VELOX.
More info: