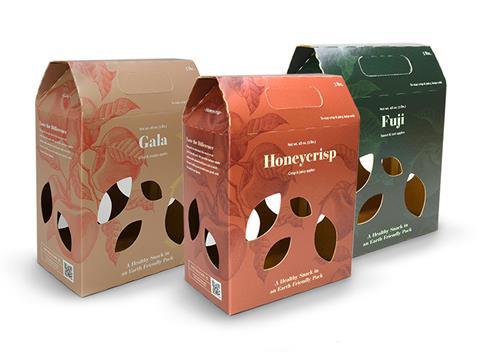 Paper-based packaging manufacturer Graphic Packaging International has announced the launch of ProducePack, a new range of recyclable cartonboard packaging solutions for fresh produce.
According to the company, the products, which are available in multiple different configurations and structures, can offer comfortable carrying handles, branding opportunities, and product differentiation in fresh food produce aisles. Meanwhile, a patented design seeks to enable easy stacking through reinforced corners.
Jackie D'Ambrosio, senior manager for new product development at Graphic Packaging, commented: "At Graphic Packaging, product innovation never stops. We're committed to providing our customers with high-performing solutions that are relevant to ever-evolving market and consumer needs.
"We're delighted that our innovative ProducePack range is proving to be a viable commercial solution for our customers that can make a positive contribution to the environment."
Apple distributor BelleHarvest recently introduced ProducePack to its three most popular apple varieties: Fuji, Honeycrisp and Gala. Angela Sommers, the company's marketing director, said: "69% of consumers prefer paper-based product packaging to plastic, and consumers see paper-based solutions as a trusted sustainable option."
"Our partnership with Graphic Packaging represents a natural shift towards respecting the environment, while ensuring our nutritious, flavourful apples are readily available and in the best possible condition."
The carton range can be hand- or machine-packed for small scale or mass production and is available now in Europe and the United States.