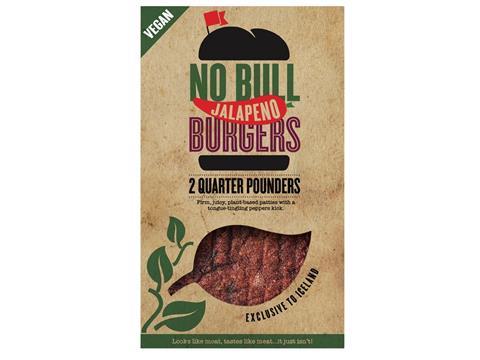 Folding carton specialist Graphic Packaging International has collaborated with British frozen food retailer Iceland Foods Ltd. to produce a range of plastic-free packs for the company's vegan product offer.
Graphic Packaging's 100% recyclable cartonboard packaging is in line with Iceland Foods' commitment to remove plastic from its own label foods by 2023.
Along with the plastic-free pack -- and unique to the concept -- is the introduction of a cellulose window. The wood pulp-based cellulose material offers the same transparent look and feel as plastic. It is sustainably sourced, biodegradable, and made from a renewable resource: trees. It meets the EN 13432 and ASTM D 6400 requirements for compostability and comes predominantly from SFI (Sustainable Forestry Initiative®) managed forestry in North America.
Mark Hodgson, key account manager at Graphic Packaging, commented: "The higher cost of cellulose material, compared to plastic, had priced it out of the packaging market in recent decades. As eco-conscious consumers place more pressure on brands and retailers to go plastic-free, we expect to see our innovative hybrid packs being adopted more widely in the UK as a viable alternative. We're delighted that Iceland Foods is leading the way."
Iceland Foods originally briefed Graphic Packaging to create a suitable plastic-free alternative for its existing quarter-pound veggie burger pack, plus seven additional line extensions.
Plastic tray and flow wrap solutions are typically used inside the carton to protect and preserve the veggie burgers inside and prevent grease transference. The challenge for Graphic Packaging was to entirely remove the need for plastic packaging on the interior and exterior of the carton. This was achieved through multiple trials and concept presentations to Iceland.
The successful replacement pack is currently on sale in store, with range extensions No Bull Quarter-Pound Veggie Burgers, Tofu Vegetable Burgers, Jalapeno Burgers, Asian Burgers and Mince, No Porky Sausages and No Chick Grills in store from August 2018.
Ian Schofield, Own Label & Packaging Manager at Iceland, added: "Phasing out plastic packaging on our own brand products is not an overnight process, but what this project clearly demonstrates is that it can be made possible through collaboration. It is of the utmost importance that brands, manufacturers and retailers support each other so that we can all adapt our products and services for a more sustainable future."