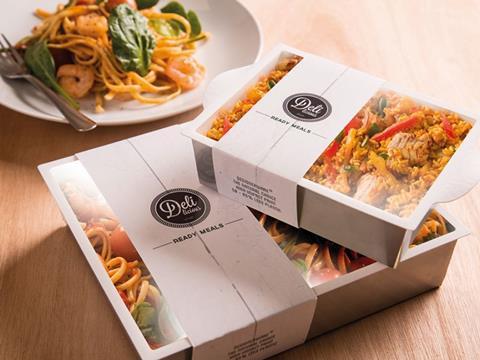 Leading producer of cartonboard packaging solutions for the food and beverage markets, Graphic Packaging International (GPI), has created a multi-functional cooking breakthrough in sustainable tray packaging.
GPI's latest packaging development, DesignerWare™ is a new and exciting range of fully customisable, paperboard and plastic trays that provide even heating to microwaveable food.
Made predominantly from virgin paperboard with a PE, PP or PET 125cpm film lid, DesignerWare provides exceptional barrier protection, with unsurpassed microwave performance as part of the GPI Cooking Solutions range. It allows multi-functional cooking options from browning and crisping to cooking from frozen and even steaming.
The materials used in the manufacture of the DesignerWare range are sourced from renewable and recyclable resources, which supports the packaging industry's current focus on reaching and exceeding pack sustainability goals. The solutions use 50 to 80 per cent less plastic than traditional alternatives, and yet they are more rigid than comparable plastic trays.
European Marketing Manager at GPI, Rakhee Karia, commented: "The increasingly busy nature of modern life means that, across the categories, consumers are looking to save precious time wherever possible. Our DesignerWare solutions address the need for quick and convenient lunches and dinners for time-poor consumers.
"In addition, the need for speed and efficiency within the food and beverage markets, has driven packaging design to be dominated by instant brand recognition. DesignerWare allows brands and retailers to create more differentiation in their product offering as both the inside and outside of the pack can be printed with high-impact graphics."
Depending upon the application, there are multiple print solutions for the sidewall design and lidding. Six colour one side and two reverse options are possible using perfecting press and lamination technologies, which are fully compliant to FDA, CIFA and EU regulations to ensure food safety.
More info: