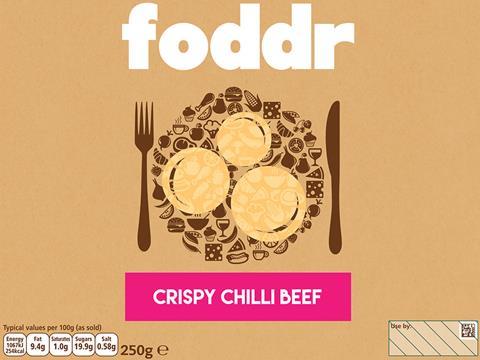 Leading carton specialist Graphic Packaging International, UK (GPI) has been working in partnership with Two Sisters Food Group (2SFG), the UK's largest food manufacturer. The latest collaboration has resulted in a new and exciting range of ready meal products for online retailer Amazon.
Foddr is a 2 Sisters Food Group brand designed to meet the busy lifestyles of today by delivering 'Real Food Fast'.The brand launch coincided with the UK launch of Amazon Fresh and has a range of 62 products including fresh poultry and cooked chicken, ready meals, soups, accompaniments and pizza.
The brand design uses icons rather than imagery on pack as Foddr was designed to be bought online. GPI was a key partner in helping to bring the design to life across many different formats and products which includes printed cardboard sleeves and skillet cartons. GPI worked to ensure all the brand colours were realised as intended, including mimicking a brown kraft board effect in the background to give a contemporary natural look that can be consistently achieved across the range.
Spot varnishes were required for the Foddr logo, icons and product descriptor which elevate the design to be more aesthetically appealing.David Tonkin, Group Packaging Development Manager at 2SFG, added: "This is an exciting brand launch which meets the increasing trend of consumers shopping more frequently for instant consumption. Foddr's broad range of products and this new channel to market is a fantastic opportunity to offer consumers Real Food Fast in a way that has not been possible before. GPI UK were very supportive in replicating faithfully the Foddr brand designs to finished packs and in producing all 62 products quickly so we could launch on time and in full."
The concept behind the solution was developed with food lovers in mind. The consumer can order by lunch for delivery by dinner on the same day.
The initial route to market is through Amazon as part of their Fresh range. The online retailer has several chilled distribution centres in large UK cities and offers chilled food for delivery within one to two hours. Currently the product is only available for those living in London but it is likely that this will expand to include other parts of the UK.
Defining the substrate specification to achieve the desired print result for Foddr wasn't without its challenges. The finished packs are printed with a Kraft effect on Incada board complete with dual varnish delivering the rustic look desired.
Lauren Hutchinson, key account manager at GPI, commented: "Our ability to be technically innovative is what really drives customer satisfaction. We bring creative and forward-thinking ideas to the table. Our relationship with 2SFG is very strong and strategic and we are absolutely aligned in terms of our innovation outlook.
"This isn't the first time we've worked together and we are proud of our unique collaboration. GPI has created a pack design that successfully addresses consumer and market demands and also reflects the brand and its values, with the potential to extend the range in the future."