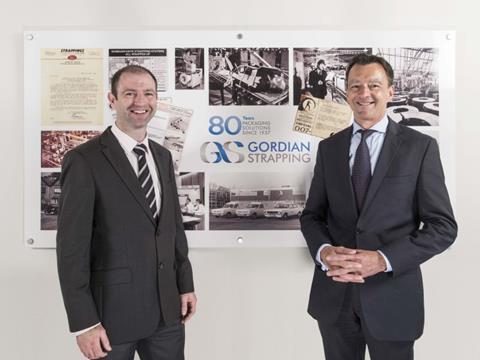 This year, Gordian Strapping is celebrating its 80th anniversary. The year is also marked by the launch of new StraPack strapping machines from parent company StraPack Corp, Japan, and further consolidation with existing business partner OMS who build and supply automated pallet strapping, wrapping and hooding systems for multi market applications throughout the UK, a truly successful partnership that has endured for over 30 years.
The business is further expanding its systems sales activity with the creation of a new division within Gordian Strapping Ltd that will focus on case erection and sealing equipment supplied by world leading partner Lantech.
Gordian has come a long way since setting up in London in 1937 supplying wire strapping equipment, the product offering today has evolved into high speed automatic equipment and plastic consumable packaging materials, but in concept it still provides the same packaging securement solution it did back in 1937. Gordian is the largest volume seller of automatic and semi-automatic strapping machines in the UK, and the business is growing; achieving record sales turnover in each of the last three years. The business has over 3000 live customers in the UK and Ireland in very diverse markets, Gordian's presence is particularly strong in industries such as Building Products, Fish, Meat & Poultry, Food & Beverage, Retail, Wood, Furniture, Corrugated & Paper.
Gordian enjoys an outstanding reputation for quality and service, with a high customer retention rate. The business focuses hard on listening to its customers and providing service and quality that differentiates it ahead of competition, this claim is backed up by significant investment in engineering skills and capability to support its products at industry leading level.
This year, Gordian will launch 3 new StraPack machines to the UK market: the RQ8GL, SQ800 and UB19. The RQ8GL and UB19 are great additions to the standard StraPack range. Both machines are eco-friendly, they have been designed to run ultra-thin polypropylene strap (0.28mm and 0.2mm thick respectively) at a speed of up to 48 and 38 straps per minute. Packaging waste is greatly reduced without compromising the strap strength and flexibility. The SQ800 is a brand new high-speed automatic strapping machine which uses a brushless DC motor meaning less moving parts, less maintenance and more uptime. The SQ800 is the successor to the market leading RQ8 series and runs at up to 55 straps per minute.
'Gordian Strapping prides itself on continuous improvement, consistent quality and on time delivery and installation. We see ourselves as a strategic partner for all our customers, distributors and business partners. We will continue to work extremely closely with our customers to deliver tailored solutions that will maximise the effectiveness of our packaging systems.' comments Andrew Lea, Managing Director of Gordian Strapping. 'We're excited about the launch of the 3 new StraPack machines in to the UK market which will help further consolidate our market leading position.'
More info: