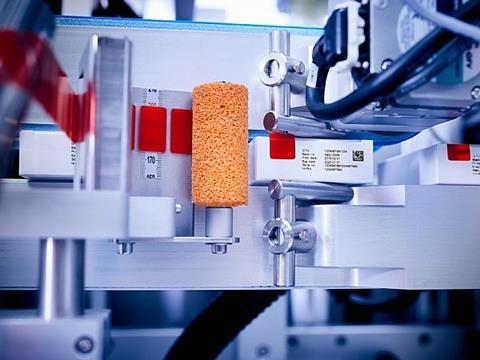 At FachPack 2018, Logopak is demonstrating a new type of Multiformat Labelling System LSC 100 at stand number No. 244 in Hall 1; the product promises decisive advantages to companies in the Point-of-Sale labelling.
Up to 150 products per minute and flexibly customizable
Manufacturing companies in the segment of food, cosmetics and medicines, including beverage and chemical industries, are often faced with the problem of labelling cylindrical products that require some effort of configuration in the labelling system; this, however, stands in no relation to the total effort especially for small and average-sized product volumes. Logopak, one of the technology leaders in labelling systems, barcode and industrial printers worldwide, has developed a solution and brought out LSC 100, which is a Multiformat Labelling System that combines simple configuration with high performance of up to 150 products per minute.
The system can be used for labelling on the cap as well as for wrap-around labelling on cylindrical products laterally and is, therefore, ideal for product lines with small and average-sized batches. And what more, it is best-suited for a host of product types. The innovative system can quickly and accurately provide labels to products made of glass, plastic or metal, possessing a height up to 250 mm and a perimeter of 150 mm.
Tamper Evident Labeller from LSS
Also on show at Fachpack is a new tamper-evident labelling machine for the pharmaceutical industry developed by Labelling Systems Scandinavia. The Tamper Evident labeller is in compliance with the European Union Falsified Medicines Directive (FMD) 2011/62/EU which will be a legal requirement for companies in Europe starting in the early 2019. Part of this directive is the requirement for tamper proof security of cartons.
The new Tamper Evident Labeller from the Danish labelling expert LSS, the tamper evident labeller seals the carton. As an option a printer and vision system of any brand can be integrated, to provide each carton with a unique identification for track & trace and serialization.
The LSS Tamper Evident Labeller has a capacity up to 300 cartons per minute. Tamper proof sealing of reverse tuck end and airplane closing cartons.
The flexible machine handles cartons ranging from 50 to 220 mm in width, 15 to 120 mm in height and 40 to 120 mm in length.
Centralised controls of all marking processes – beyond Industry 4.0
Another step on the way to the smart factory: Logopak has developed a program that makes labelling more efficient and reliable for print & apply applications. This database-based middleware, LogoSoft, ensures flexible automation with which all marking processes can be controlled and monitored centrally.
Manufacturers prefer production environments that are developed nearly identically at different locations. Digitisation offers diverse options for networking, and machines are often able to communicate with each other. Limits are certainly set by different standards and programming languages, as well as aspects of data security.
For this reason, Logopak developed the LogoSoft program, which makes labelling processes able to be calculated transparently. This enables labellers, scanners, and printers to be networked with the various IT systems of the user. As middleware, the program harmonises data management, label production, and machine commands with the production cycle. Plus, the software features a connection to ERP systems, which offers numerous options for resource management. Central data management avoids manual routines and entries. Changes to legal standards and norms are administered centrally and checked reliably.
Both transparent and non-transparent labels can be applied. Due to its small foot-print, the new Tamper Evident Labeller is easy to fit into any production area, and can be used as off-line or in-line unit.
The operator-friendly HMI, makes the machine very easy to operate. The Tamper Evident Labeller, is designed with focus on minimizing the time spent on batch change and line clearance.
Print & Apply
Logopak is also presenting innovative Print & Apply solutions for packaging, logistics and dispatch - including the environmentally-friendly QTB series for waste-free labelling of pallets, cardboard boxes and small consignments.
Labelling processes in secondary packaging are often characterised by high cycle rates. Logopak's Print & Apply systems can be designed with suitable applicators for cycle rates of up to 50 products per minute. The various sizes of cardboard boxes, flat packs and pouches pose a further challenge. They are typically labelled from above - but how far must or may the applicator extend in order to apply a label safely and without colliding if there are height differences of up to 600 mm? For this reason, Logopak has integrated height measuring systems into its Print & Apply solutions, if required, which provide precise information to move the applicator arm to the correct application position. If cardboard boxes have a bulbous or curved surface due to overloading , applicators are available which can either inflate the labels with compressed air or apply them by rolling them on.