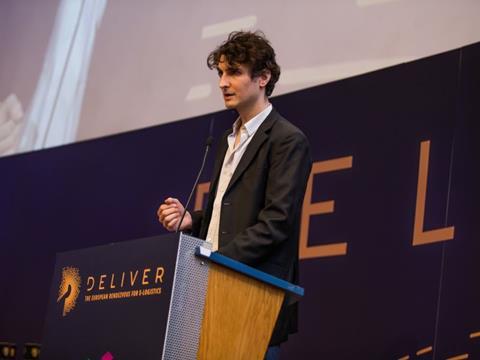 Prior to this year's DELIVER events online and in Amsterdam, we discuss e-commerce trends and developments with Stéphane Tomczak, the event's founder and CEO.
What are the key trends in 2021 the e-commerce and logistics space you have identified and that will be discussed at DELIVER?
For the e-commerce and logistics community, agility will be required to cope with a growth that goes far beyond what we have previously experienced. Digital transformation is one of the keys to the evolution of retailers and logistics providers regardless of sector. Digital offerings will have to be complete and efficient, from payment to automation now that purchasing online represents 10-20% of total sales. Agility will therefore also be achieved through omnichannel, which is one of the key components of our new normal. Today, consumers gravitate to brands which provide the best fulfilment and last-mile delivery services. Not only do they want their orders to be fulfilled accurately and immediately, but they are also expecting the shipment to be free and transparent, and best if their purchases can seamlessly arrive the next day if not on the same day.
Which recent innovation(s) have transformed the industry the most in recent years, in your opinion?
A lot has been initiated in terms of innovations recently in my opinion and last-mile delivery is one of them: rapid delivery and companies which meet same-day and next-day delivery promises even in congested urban areas. The on-demand warehousing, part of what's considered the shared economy, is another supply chain innovation that addresses a common pain point: companies that need additional warehouse space temporarily but don't want to take on the operating costs of opening a new warehouse facility. Big data and artificial intelligence are also transforming the supply chain. In fact, it's not the tracking devices themselves that make the day to day 's alerts possible, but tracking devices paired with cloud-based visibility and analytics platforms. With the use of IoT devices, companies can share supply chain information without the need for human interaction, and by leveraging big data, artificial intelligence technologies transform raw data into actionable insights that aid decision-making.
What are the key challenges to packaging to deliver a smooth customer experience when it comes to e-commerce?
A consumer's online shopping experience is different from traditional retailing in various ways, particularly from a logistics perspective. Consumers cannot touch and feel products but must make a buying decision about them on a screen. Products are not shipped to a few stores but to many consumers, all with unique orders. The use of standard packaging systems not designed for specific needs is one reason behind poor packaging performance. Over time, the use of standard packaging solutions tends to create limits from a logistics and handling perspective. Even if e-commerce companies tend to hesitate before investing in customized packaging solutions because of uncertainty of ROI, but tailor design, materials and size to what has been purchased is a key element to a smooth customer experience. Beyond a commercial issue, being aligned with sustainability developments is now a necessity and a key criterium for both consumers, who are increasingly looking for meaning, and for suppliers who must take these issues into consideration to stay competitive. This requests creativity, resilience and innovation.
How has COVID-19 influenced the acceleration of e-commerce? Conversely, what challenges has it added to logistics operations?
The crisis expedited what was already a rapidly growing market, estimated to have accelerated the shift from physical stores to online shopping by approximately five years. Customer needs and business opportunities are in constant flux, creating an environment of uncertainty for retailers. It is more important now for online retailers and supply chain executives to analyze the current market and plan for a post-pandemic future. Brands which have dominated their home market, are now increasingly tapping into global marketplaces to make a move into other, more lucrative destinations. This eruption in cross-border sales will be amplified, signalling the need for retailers to manage overseas logistics effectively. Earlier this year, disruption to global production lines caused retailers to evolve their supply chains in a matter of weeks and months, instead of years. Availability and convenience of purchasing products have now replaced loyalty, as consumers turn to wherever they can purchase their preferred products, meaning retailers cannot afford anymore to face stock shortages. Diversified supply chains will allow sellers the necessary agility to keep up with evolving fulfilment standards, and ultimately deliver the right items, to the right customers, at the right time. By having logistics and smart inventory management processes in place, retailers can offer the all-important "instant delivery" option and boost their rankings in an ecosystem formatting today on "daily crisis mode" basis.
What can attendees expect at the virtual and physical DELIVER events, respectively?
DELIVER Connect on 8+9 June 2021 will link up hundreds of retailers and vendors who will hold one-to-one meetings that are at the core of DELIVER's expertise, and is the perfect complement to DELIVER Amsterdam on 6+7 October 2021 that will host a reinvented show – more experiential and interactive than ever. Netwoking will be our answer to meet the needs of our disrupted community and provide it with the most efficient contacts to face any future business challenges. Being the Europe's premier community for e-commerce and logistics, reconnecting our community to create new original windows of meeting opportunities and animating our ecosystem are what we aim at DELIVER. The launch of our digital solutions throughout the year - the 'Pick & Mix' for vendors and the 'League of Leaders' for retailers will allow us to support our community on a more regular and efficient basis.