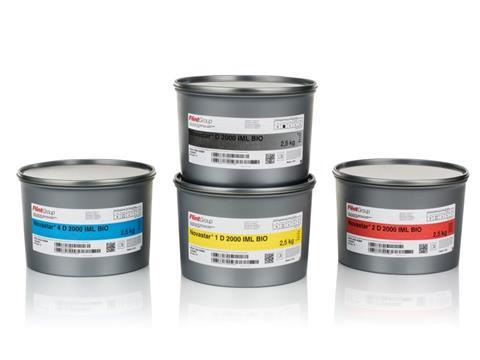 Expanding its range of in-mould label products and presenting non-UV print shops the ability to compete in this growing segment, Flint Group has announced the global availability of Novastar® D 2000 IML BIO for metallised paper and non-absorbent substrates.
According to Jürgen Riedlinger, Director Global Product Management, Sheetfed, "Over the last 5 to 6 years global production of in-mould labels has grown at around 4% per year, due in part to the ability of the technology to enhance the product visibility and brand identification in the market. And we believe in-mould labelling will continue to grow significantly as the manufacturing efficiencies and visual quality it brings gets wider endorsement. Currently in-mould accounts for less than 3% of all labelling, so there is plenty of room for it to grow."
Novastar® D 2000 IML BIO is a mineral oil free, low migration sheetfed ink to be used for label printing without direct food contact. Suitable for printing work corresponding to ISO 12647-2, Novastar® D 2000 IML BIO is especially suited to printing on metallised paper and other non-absorbent substrates. It is the latest in a line of products introduced by Flint Group to create a rounded portfolio for the offset label print market.
This very high colour strength product features good printability with excellent dot sharpness and fast oxidative drying. Based on renewable raw materials and produced conforming to Good Manufacturing Practice (GMP), it has exceptionally good adhesion and scratch resistance, while it is very versatile in high as well as sub-zero temperatures.
The process series comes together with Novastar® D 2000 IML BIO spot colour shades and joins a growing family of IML products from Flint Group which includes Novaset® 4940/40 IML coating, and the UV curing range UltraCura Sens for paper, board and plastic and UltraCura Sens Plas for non-absorbent materials, foil and IML substrates.
Mr Riedlinger explains "We recommend customers use our Novastar® IML inks and coatings along with Varn® fount AF 4000, dayGraphica® 3610 blankets and any of our Varn® anti set-off powders to give consistently good results in a conventional print situation. If they use our UV curing UltraCura products, we have Varn® Ultra 4100 fount and dayGraphica® 4200 UV blankets to give the same high level of reliability and quality".
In conclusion Mr Riedlinger says that "while Europe currently holds the largest share of the Global IML market, the main growth opportunities going forward are in North America and, due to an increase in demand for food and beverage products, the emerging markets of China, India and South America. We also see potential in the high-value markets like paint pails and nutraceutical containers, with high-impact, decorative and eye-catching metallic colours becoming more popular.
With the introduction of Novastar® D 2000 IML BIO we now have a complete portfolio, available globally to meet the needs of IML printers wherever they are."
More info: