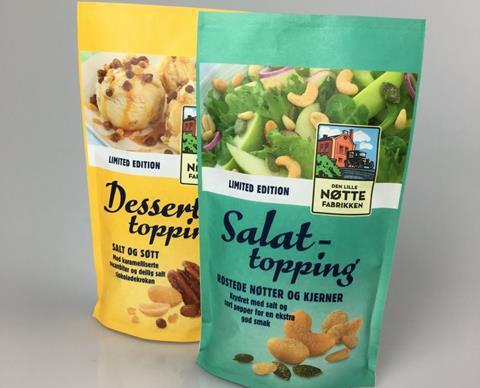 Flextrus has taken its packaging expertise to another level by offering digital printing capabilities to customers seeking superior shelf-standout and campaign features for their products.
Flextrus is a leading innovator in flexible packaging for the food, health and personal care sectors. As the retail landscape becomes ever more competitive and supermarket shelves more crowded, retailers and brands are increasingly looking for solutions that drive sales and reduce costs.
Flextrus' digital printing service, in partnership with Mediaköket, part of Flextrus, responds to both these needs. The company is able to offer high-quality digital printing and finishing on a wide range of materials for both wide and narrow web applications, including an extensive selection of finishing options such as lacquering, embossing, laser scoring, hot and cold foil and web inspection.
This is complemented by a graphic design and print management service to ensure customers are supported throughout the process and a high quality result is achieved.
Cliff Gorst, UK and Eire Sales Director, said: "In today's consumer driven market, retailers and brands need to make sure their pack has great shelf appeal – not only in terms of clever innovative features like reclose or reseal but also striking, eye-catching graphics that engage consumers as they browse the shelves, both in-store and online.
"There are multiple benefits to digital printing which suit the fast-paced retail environment we now operate in. The trend for customised and personalised packaging to drive sales means brands and retailers want their products on the shelves within days, not weeks; add this to the fact that product refreshes in the UK take place on average every 6.6 months and it becomes clear that digital printing is the only economically viable technology."
Digital printing is ideal for short and on-demand runs. It saves cost, is less time consuming and eliminates the expense of plate-making and setting up of the presses, enabling easier and less-expensive last minute changes and provides the opportunity to print multiple variations.
Flextrus uses distinctive varnishes to create appealing visual effects and product differentiation to drive sales. Gloss can be used to increase colour depth and saturation as well as offer a reflective finish, whilst a matte varnish enables a smooth and structured surface to create a more sophisticated overall look and feel. Ideal for premium packaging, the non-reflective enhances text readability and softens images. Meanwhile, tactile varnishes provide unique textures to packaging to deliver an element of luxury and compelling aesthetics.
The varnishes can be applied in different patterns to create light refracting or holographic effects before curing. These effects provide unique possibilities for branding and product differentiation.
The wider print press at Mediaköket is combined with a wide web finishing unit that can be used for special varnishes, lamination and slitting. The deliberate choice to use electron beam (EB) curing, in combination with digitally printed flexible materials, makes Mediaköket unique in Europe and provides a safe solution when it comes to environmental and food safety aspects.
Mr Gorst added: "Flextrus is combining its expertise in packaging with novel digital printing capabilities to offer customers a complete solution that hits the mark in terms of speed-to-market, quality and cost-effectiveness."
More info: