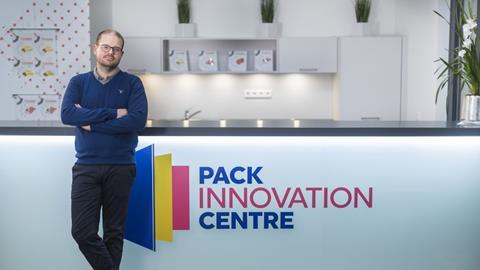 Coveris' Pack Innovation Centre was conceived to be a European hub for technical product development, sustainable innovation and education, and aims to support its customers to 'innovate', 'educate' and 'validate' the flexible packaging of the future.
The centre, located in Halle in Germany, officially opened its doors in July 2020. Elisabeth Skoda speaks with Christopher Tuchscherer, the centre's pack innovation manager, about trends and challenges within the flexible packaging industry and finds out more about the work done at the new centre.
Asked about the biggest packaging and raw material trends that will be discussed at the centre, Mr Tuchscherer highlights recyclable monomaterials and films made from recycled materials as top priorities.
"Among many discussed trends, the drive towards recyclable monomaterials is at the forefront of discussions, not least here in Germany because of the requirements of the German Packaging Law, as well as intensified use of recycled materials in films and laminates. At the Pack Innovation Centre we test new monofilm solutions and monomaterial laminates, ensuring they meet the growing needs of the packaging market in terms of convenience, quality and protection. We also continue our research on downgauging."
The motto of the Pack Innovation Centre is 'Innovate', 'Educate' and 'Validate'. On the 'Innovate' side, Coveris works with customers on design, creation and optimization.
"The centre offers the possibility to perform feasibility tests on projects even at early stages, to provide engineers and pack scientists with assurance that they are on the right track to finding the best solution," explains Mr Tuchscherer.
The 'Validate' phase includes industrial trials, workshops and training sessions as well as mock-up production.
"Our production area is equipped with the latest packaging machinery, including a thermoformer, a tray sealer and form-fill-seal machines. Supported by a laboratory environment and analysis systems, this allows efficient and innovative industrial trials with on-site testing and validation," Mr Tuchscherer adds.
Finally, the 'Educate' side of the centre offers expert talks, technical training and the sharing of knowledge about the latest packaging trends, materials and technical innovations.
"Coveris's team of industry experts regularly run training sessions on topics such as the latest packaging and raw material insights or sustainability trends. Bringing in outside experts from across the sector, we share knowledge to inspire and develop the packaging of the future. During the COVID-19 crisis it has not been possible to invite bigger audiences, but we are looking forward to being able to do that once the crisis has subsided," says Mr Tuchscherer.
Discussing the benefits of flexibles
Flexible packaging has enjoyed increased popularity in recent years, and Mr Tuchscherer thinks that this trend is here to stay.
"Flexible packaging is still the most effective packaging material due to the superior area to weight ratio, i.e. less material can pack more goods, of polymers in comparison to other materials such as glass, metal or paper, and its properties contribute to fighting food waste. Of course, it is a well-known fact that food waste is a growing issue not only for ethical reasons, but also as a major cause for generating CO2 'waste', i.e. causing unnecessary CO2 that actually need not have been produced."
He also highlights consumer convenience and shelf appeal as a major argument for flexibles.
"On top of that, flexible packaging offers greater convenience for end-users, because it allows multiple packaging formats and sizes that fit with their busy lifestyle through features such as see-through windows, carry-on handles, resealable zippers or single-use and multipack formats. On the other hand, it also gives food producers multiple design options that help them stand out on the display."
Coveris is a member of CEFLEX, and the new centre ties in well with the work done there.
"As we are an active member of CEFLEX all our development work supports our input. The materials developed follow the D4ACE guidelines and all new developments can be tested on real-life packaging machines."
Tackling the recyclability challenge
On its quest to develop recyclable flexible packaging, Coveris has recently launched a new range of recyclable flexible packaging materials called MonoFlex. But Mr Tuchscherer is keen to highlight that it's important not to lose sight of other pressing issues.
"A key challenge still is the focus on keeping the current functionality with less engineered or advanced polymers as current customer machinery is set up to run other materials with highest efficiency. The latest Monoflex E and P range (E stands for polyethylene, P stands for polypropylene) addresses this demand as they both run on current machinery with comparable efficiency figures, while barrier levels and efficiency are under constant improvements."
There certainly is room for improvement with many commonly used packs. He gives an example of standard thermoformed packages for meat and cheese products.
"They often have a really thick bottom that is mainly APET laminated with a PE sealing layer, and on top you also have a polyester reverse printed laminate with a barrier PE material. Coveris developed an innovative film that peels just on the mono APET bottom material, so customers have the chance to change from an APET PE non-recyclable structure to a mono APET bottom material which is recyclable and much thinner than a standard film – thus solving two problems in one step."
He highlights two more challenges – the current unclear and constantly changing legal environment for plastics packaging and public perception.
"Many countries in Europe do imply national regulations, however there is no harmonized approach across the continent. Furthermore, the current waste problem, which is largely a behavioural issue, is often treated as a 'plastic problem', but that is something we hope to be able to help to address by providing information through our centres."
The Pack Innovation Centre complements the Pack Positive Centre in Leeds in the UK.
"The Coveris Pack Innovation Centre represents the second building block of the Coveris forward-thinking initiative centres. The Pack Positive Centre is specialized in consumer insights, and now has a partner with the new Pack Innovation Centre that brings technical development, validation, and training to the next level. This way the cooperation between the two tech centres is focused more to complement each other rather than to directly cooperate," Mr Tuchscherer concludes.