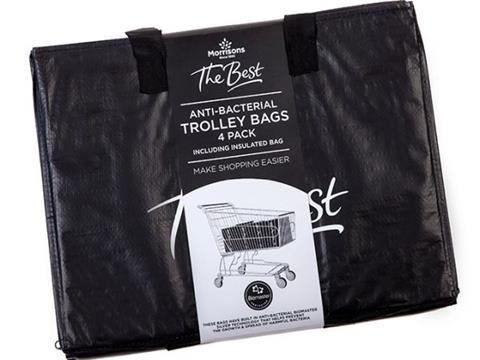 Biomaster has extended its range of reusable bags with the first ever antibacterial trolley bag, designed to make supermarket shopping easier and more hygienic.
Morrisons has launched a new 4-pack trolley bag system, available in all stores from this month. Customers can pop up the bags and place them in their trolley and they stay open and upright, allowing to fill them and sort groceries while walking around the supermarket.
The bags can save also time at the checkout as packing is quicker and easier without the inconvenience of holding them open. The bags can also be used individually for a quick 'shop on the go'. The 4-bag set is flat-packed and easily stored away in the back of a car.
The inner lining of the bags are protected with Biomaster technology to inhibit the growth of bacteria. Studies have shown that reusable shopping bags can be a breeding ground for dangerous bacteria, with some strains able to survive in a bag for up to eight weeks.
The antibacterial protection lasts for the useful lifetime of the bag. Morrisons already offers a reusable antibacterial 'bag for life' and recently also launched an insulated antibacterial 'cool bag'.
The Biomaster antibacterial reusable 'bag for life' is now available in most major retailers and in a range of formats, including insulated cool bags, lunch bags and pouch bags.
More info: