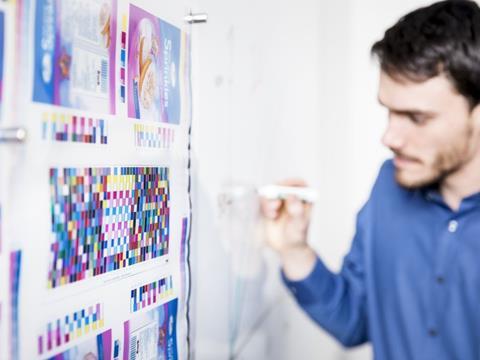 "In the case of flexibles, different plastics present different adhesive properties. In addition, we need to add performance properties needed for lamination processing and, in some cases, for sterilization at high temperatures and pressure. Here, too, we need to give thought to the end of life, considering which disposal, recycling, or other treatment process the packaging will undergo."
Sustainability and performance
Safety and sustainability have grown in importance in recent years. Manufacturers have been progressively adopting safer chemistry in response to the emergence of chemical safety legislation, as Mr Novo points out.
"Apart from the elimination of certain ingredients following the latest legislation in different countries, this also includes inks with lower VOC content and reducing the carbon footprint. Advances have been made for example in highly pigmented inks that evaporate less solvent or water-based inks. However, thinking beyond the inks themselves, Toyo Ink has sought to improve the technology that reduces energy consumption during ink application, for example with highly-reactive UV-curable and LED-curable inks."
While vibrant colours are of course important, increased attention is given to how inks perform when it comes to recycling. Ms Klemesrud points out that it is important to ensure that its technologies do not compromise the recycling process or recyclability of packaging in any way.
"We have developed inks which are designed for floatable and sinkable labels, assisting the recycling process, along with inks certified for the CADEL deinking system. We have also invested in developing inks with Material Health Certification from Cradle to Cradle for both our water and solvent-based ranges."
In 2020, Flint Group also launched its TerraCode inks range, a series using sustainable raw materials.
"TerraCode is available in three chemistries suited to specific print requirements and is suitable for a wide array of paper and board and water-based film applications, it includes high water and grease resistant technology for the food service market, as well as a range of high-performance coatings, including direct food contact options, and offers excellent mechanical resistance, resolubility and print performance," Ms Klemesrud adds.
It seems as though inks and colour management solutions are becoming ever more sophisticated to keep up with growing brand demands around the different sales channels without losing sight of sustainability requirements. We are looking forward to seeing even more innovation in this space in the coming months and years.