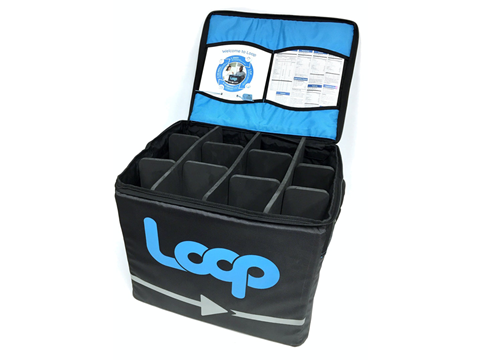 In the last edition of our interview series with the finalists of the 2020 Sustainability Awards, we speak with TerraCycle about the reusable, durable tote bag it uses for its Loop platform.
Don't forget to tune in tonight at 18:00 (CEST) to watch the live awards ceremony – click here to register.
---
Congratulations on being selected by the international judging panel as a Sustainability Awards 2020 finalist! Could you please introduce your successful entry and what's innovative about it?
Loop is the first-ever global shopping platform that partners with brands and retailers to re-imagine household goods to be packaged in durable and reusable containers. Everyday essentials, from ice cream to laundry detergent, are available in refillable packaging for purchase on the Loop website. The goods are delivered in the Loop tote, a ground-breaking reusable, recyclable, and returnable shipping container.
Developed by Loop's in-house design team, the Loop tote safely transports food, personal care, and household items sold on the Loop platform. The tote is made from materials that can be easily separated, cleaned, repaired, and replaced to ensure the longest life cycle possible. Loop recovers and recycles all shipping totes at the end of their life to turn back into material to create future shipping totes.
What are the environmental challenges in packaging that your entry addresses, and what impact do you hope it will make?
The convenience of online shopping and the expectation of free and fast deliveries has created an enormous amount of cardboard and shipping material. Items are delivered in excessive packaging, in polybags, or all separately from one another, creating more waste with every order placed.
The strained recycling system cannot handle this growing issue and recycling alone will never turn off the stream of packaging waste produced each day. Loop's delivery system eliminates disposable, single-use shipping materials such as cardboard boxes, bubble-wrap, and ice packs.
According to Life Cycle Analyses verified by a third party, Loop's tote is environmentally beneficial when compared to a cardboard box made out of recycled fiber after three usage cycles. While creating a Loop tote emits 0.804 kg CO2 compared to recycled cardboard's 0.266 kg CO2, the Loop tote environmentally surpasses cardboard after three usage cycles.
Although the tote is made out of new materials and emits more greenhouse gases initially, it becomes lower than the greenhouse gases emitted to continuously produce cardboard boxes because the reuse cycle only requires transportation and cleaning, rather than the environmental cost of continuously creating new disposable packaging. This process requires oil extraction and refining, manufacturing, and transportation to create polybags and protective plastic bags which most orders are shipped in.
The Loop tote is a durable solution that, as Loop scales, will reduce the environmental impact of online shopping and delivery. After three reuses, the Loop tote out-performs a cardboard box of comparable size in environmental impact.
I'd like to ask you about the broader picture beyond your successful entry. 'Sustainability' in packaging is multi-dimensional – both in terms of objectives and challenges. Could you comment on the most important roadblocks you identify from your position in the value chain, and the kinds of solutions you would like to see addressing them (e.g. areas of technological innovation, collaboration, regulation)?
With the Loop tote and all of the packaging in the Loop system, providing packaging that is both durable, recyclable, and economically viable is a challenge. For example, the deposit on the Loop tote can be a roadblock to consumer adoption and that can be said for other reuse systems that require consumers to shop differently.
With the tote, we could use a cheaper fabric to bring down the costs, but then it would not be durable enough to be cycled around many times.
I think to address these issues, making advancements in new kinds of materials for packaging is important as well as collaboration between different types of stakeholders. The World Economic Forum (WEF) brings together leaders of society to address the world's most pressing challenges.
This has an impact on the environment. It is our responsibility to mitigate these impacts, another way of fulfilling our mission to improve the state of the world. The Ocean Plastics Leadership Network is designed to mobilize brands, materials scientists, innovative technologies, and NGOs/activists in the plastic value chain. Through education, curated introductions, and an online community, we advance solutions-oriented projects and promote ideas from experts and advocates.