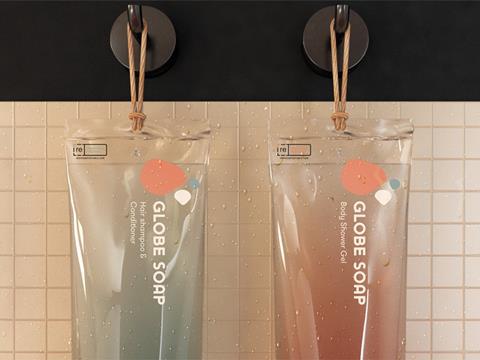 The countdown is on for the live Sustainability Awards 2019 ceremony, where we will unveil the worthy winners of the most prestigious sustainability competition for packaging innovation.
In anticipation, we explore the 25 standout solutions that made it to the finals, handpicked by our independent, expert judging panel.
The winners in each category and overall 2019 Sustainability Awards winner will be announced at FachPack, Nuremberg, Germany on 25th September. Join us from 16:30 at FachPack's PackBox Forum for sustainability discussion, networking, drinks and the big reveal.
Our second finalist interviewee is Germany's popular packaging with its Globe Soap solution entered in the Bio-based category- a container for soaps, shower gels and shampoos which, among other things, uses self-acting gravity as a closure.
Congratulations on being selected as a Sustainability Awards 2019 finalist! Could you please introduce your successful initiative?
Whether it's packaging for drugstores, cosmetics or personal care: what's good to our skin and body is usually not good for the environment and packed in way too much material.
Even with manufacturers and brands that promote their natural ingredients, the packaging is usually made from plastics made from fossil fuels - without any regard for sustainability.
With 'Globe Soap' we have developed an ecological packaging for soaps, shower gels & shampoos that uses a minimum of material - material that is also produced from 100 per cent all-natural, renewable sources. A thin foil tube made of compostable cellulose foil is hung by a sisal band, a wooden ball serves with its self-acting gravity as a closure.
The content is always fully visible, the hanging ensures complete emptying, which avoids unnecessary waste. The content is taken out intuitively - with only one hand and perfectly doseable by pushing the wooden ball slightly up - so the desired amount of soap runs directly on the hand.
Both players from the packaging industry and cosmetics manufacturers are showing serious interest in Globe Soap, but the step to a major roll-out is not quite done yet although it's on its way.
What are the environmental challenges in packaging that your entry addresses, and how well is the market responding to them so far?
Consumers usually have flat-rate opinions in mind when it comes to which materials - e.g. paper - are eco-balanced, which are not always correct. And on the other hand they condemn others - e.g. plastic - hastily, just because they can not identify which plastics are environmentally responsible and which are not.
That's why sustainability in packaging is as much a challenge of communication as it is for engineers and chemists. Because the best sustainable packaging does not benefit the environment if it is not understood, accepted, bought and optimally disposed of again by the consumer.
'Sustainable packaging' is a contentious concept, which means different things to different people, and anyone working in packaging understands that it's easy to make things worse according to one environmental metric while making improvements according to another. In your opinion should there be a hierarchy among our sustainability goals?
For us, the first priority for sustainable packaging is not just finding the best material and functionality but also to tell clearly and simply why this packaging is sustainable and how to deal with it. This starts with the task that the consumer must clearly recognise and understand the benefits of the packaging and how it should be disposed of in order to actually close the circle.
The second goal should be to not use materials made out of fossil fuel anymore.
And third, create packaging with as little use of material as possible - by identifying unnecessary volumes, minimising the material used and / or multiple functionalities, as well as optimised designs.
Clearly, sustainability in packaging needs to be achieved by many stakeholders acting together, not by someone with a silver bullet. Thinking about the wider picture, what areas of innovation or action would you like to see across the value chain in the coming years to meet the demands of nature and society?
Sustainability in packaging has become a major topic. A lot of manufacturers and brands have sustainability on their agenda but are still far away far from actual, ecological action. Their goal is to be considered by consumers as 'ecologically OK' with the least possible effort and at the lowest possible cost. Therefore, much is invested in PR and 'flagship projects' and still far too little in quantity-relevant, mass-suitable innovations.
A real improvement in the global eco-balance can only be achieved when we think and act broadly. Every stakeholder must be honest enough to convey to consumers that ecological solutions are often more complex and initially more expensive than conventional ones. But also have the confidence that they will be rewarded for this attitude and honesty, too.