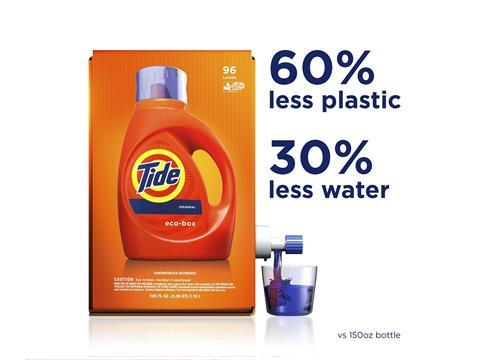 The countdown is on for the live Sustainability Awards 2019 ceremony, where we will unveil the worthy winners of the most prestigious sustainability competition for packaging innovation.
In anticipation, we explore the 25 standout solutions that made it to the finals, handpicked by our independent, expert judging panel. Ty Martin, associate director – Fabric Care HDL Packaging Development, Procter & Gamble tells us more about Tide Eco-Box, a finalist in the resource-efficiency category.
The winners in each category and overall 2019 Sustainability Awards winner will be announced at FachPack, Nuremberg, Germany on 25th September. Join us from 16:30 at FachPack's PackBox Forum for sustainability discussion, networking, drinks and the big reveal.
Congratulations on being selected as a Sustainability Awards 2019 finalist! Could you please introduce your successful initiative?
Tide Eco-Box arrives on a consumer's doorstep in a sealed, shipping-safe cardboard box that also acts as the primary container in-use. Inside the box is a sealed bag of ultra-compacted Tide liquid laundry detergent. To use, consumers peel off the cardboard flap to reveal a dosing cup and a "no-drip" tap. To make dosing simpler on flat surfaces, the box includes a pull-out stand to raise the height of the box so the cup fits easily beneath the tap.
What are the environmental challenges in packaging that your entry addresses, and how well is the market responding to them so far?
Tide Eco-Box is designed to eliminate unnecessary waste and reduce greenhouse gas emissions. Tide Eco-Box does this by eliminating the need for bagging/wrapping/taping and over-boxing, reducing plastic by 60% and total packaging by 40% vs. the current 150 oz Tide pack, and reducing the total size and weight shipped leading to 25% fewer trucks to deliver the same # of loads. On top, the Tide product sold in Eco-Box is produced using 100% renewal wind power.
'Sustainable packaging' is a contentious concept, which means different things to different people, and anyone working in packaging understands that it's easy to make things worse according to one environmental metric while making improvements according to another. In your opinion should there be a hierarchy among our sustainability goals?
There are many urgent priorities our industry must address, including plastic in our oceans and waterways, solid waste to landfills, energy consumption, and carbon emissions. As an industry, we must solve all of these and more, so as your question highlights, there is not one right answer on the most or least important.
Clearly, sustainability in packaging needs to be achieved by many stakeholders acting together, not by someone with a silver bullet. Thinking about the wider picture, what areas of innovation or action would you like to see across the value chain in the coming years to meet the demands of nature and society?
I would truly like to see capture and recycling of flexible film packaging on a broad scale.