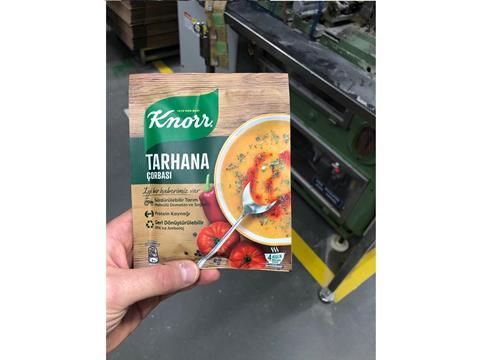 One week to go until the live Sustainability Awards 2019 ceremony at FachPack! Join us to discover the worthy winners of the most prestigious sustainability competition for packaging innovation.
In anticipation, we explore the 25 standout solutions that made it to the finals, handpicked by our independent, expert judging panel. Laurent Chantraine, business development manager, flexible packaging, Jindal Films Europe talks about their collaboration with Unilever and Mondi. Their all-PP mono-material pouch solution for dry foods was selected in the 'Recyclable packaging' category.
Congratulations on being selected as a Sustainability Awards 2019 finalist! Could you please introduce your successful initiative / innovation?
Jindal Films, Mondi and Unilever collaborated to develop a new mono-material "PP-rich" film barrier laminate, which can run on high speed horizontal pouch machinery to fill sensitive dehydrated powder soups for the famous global Knorr brand.
This mono-material recycle-ready barrier laminate (OPP/Met-OPP/Seal OPP) is considered by the three parties as a breakthrough innovation, as it is the first large volume dehydrated soup pouch application in the market to resort to only OPP films. It is considered an achievement for a traditional market segment typically using Paper, Alu foil , PET and PE based high barrier laminates, which are considered today unrecyclable according to the pending CEFLEX guidelines.
The pack is the first recyclable Knorr branded dehydrated soup pack at Unilever globally! The use of new high barrier and high seal performance technologies from Jindal Films was instrumental in the success of the project.
What are the environmental challenges in packaging that your entry addresses, and how well is the market responding to them so far?
Our entry – a mono-material high barrier solution - illustrates well the feasibility of replacing hard-to-recycle substrates (i.e. PET, Alu foil, Paper …) with PP films for improved recyclability of flexible packaging in the future. The market is extremely responsive to our recent technical innovations that enable the switch to OPP Films or laminates, as most customers are increasingly aware of the pending design guidelines that have been developed by CEFLEX to be issued in 2020.
The need to remove the non-polyolefin components is generally well understood and brand-owners as well as converters are proactively moving in this direction, with some notable differences across Europe (e.g. UK is PE focused like the USA). The switch to a PP-rich solution is giving companies a good compromise in terms of product protection (barrier to humidity, aromas or gases), promotion (matte or glossy, high stiffness, good aesthetics and haptics) and performance (printing, lamination, packaging and filling operations).
Of course, some more demanding end-use segments such as in liquid packaging (e.g. pasteurized or sterilized foods) have a higher performance requirement, and we will need more time to find a suitable compromise of the above 3 P's of packaging.
'Sustainable packaging' is a contentious concept, which means different things to different people, and anyone working in packaging understands that it's easy to make things worse according to one environmental metric while making improvements according to another. In your opinion should there be a hierarchy among our sustainability goals?
Good use of science should still prevail and the use of LCA (life cycle assessment) is helpful to demonstrate the benefits and help hierarchize goals and solutions. As an example, we have previously shown that high barrier vacuum metallized OPP is extremely advantageous in terms of GHG emissions, solid waste and energy consumption when compared to thin Aluminium Foils.
Aluminium is wonderful for recycling in a rigid form, but when laminated to polyolefins it is preventing the laminates to be mechanically recycled. Moving to high barrier OPP films resolves this issue and allows the product protection to be maintained and the laminate to be collected and recycled. A huge additional benefit is the LCA performance of vacuum coated OPP is immensely better than Alu foil. Similarly polymer science dictates that some polymers are miscible and others are not. PP and PE can be coextruded, but when blended and re-extruded together they are immiscible and phase separation occurs.
This immiscibility will cause poor mechanical properties for rigid packaging. Again this can be addressed by moving the PE sealant film to a PP sealant film and the entire laminate is miscible and improves the downcyclability.
Clearly, sustainability in packaging needs to be achieved by many stakeholders acting together, not by someone with a silver bullet. Thinking about the wider picture, what areas of innovation or action would you like to see across the value chain in the coming years to meet the demands of nature and society?
From our perspective as the leading global supplier of PP films, one of the keys to success lies in ensuring the effort is shared across the entire value chain (i.e. resin to recycled resin).
For recycled-ready solutions (e.g. all PP laminates) to be broadly accepted in replacement of other less recyclable solutions (e.g. Paper/Alu foil/PE), the key converting AND packaging requirements need to be addressed. For converting, some key players might be captively producing one of the substrates (e.g. Alu foil or blown PE films) or heavily focused on a technology (e.g. adhesive vs extrusion lamination) and might be tempted to favour one solution over another.
For packaging, the machinery needs to evolve more rapidly to enable or facilitate the switch to mono-materials. Most OEM suppliers are not always well versed in the functionality of each substrate, and may struggle to find an appropriate solution to help shift from heat resistant laminates to lesser heat resistant but more recyclable solutions. Machinery suppliers who are able to improve heat transfer (and sealing jaws) or deal with non-PET, OPA, Paper, Alu foil containing laminates will be instrumental in the adoption of recycle-ready PO based solutions.
Additionally, in the long term the use of chemical recycling might turn out to be a suitable approach. However for now to have an impact our immediate future, we need to have the industry deploy improved sorting and mechanical recycling streams for flexible packaging across Europe.
There is an urgent need for the recycling industry to adapt their current processes to better segregate PP, PE and mixed PO streams, in order to maximize or optimize the downstream secondary use (e.g. injection molding). This work-stream will be critical to support the objective of progressively replacing single use plastics for flexible packaging in Europe.
For the high barrier applications, we have assessed with partners such as Tomra that the Knorr barrier OPP laminate we jointly developed with Unilver and Mondi, is easily sortable - which means detectable by near IR techniques - and thus diverted to the PP fraction during a sorting operation. We have further on-going work with partners such as Axion Polymers to demonstrate the good mechanical recyclability of this type of all-PP high barrier laminates for injection molded applications.
The winners in each category and overall 2019 Sustainability Awards winner will be announced at FachPack, Nuremberg, Germany on 25th September. Join us from 16:30 at FachPack's PackBox Forum for sustainability discussion, networking, drinks and the big reveal.