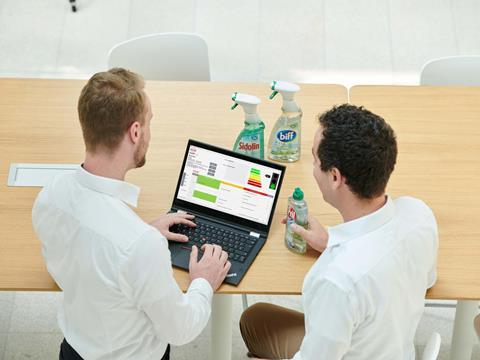 Henkel's EasyD4R tool was recently announced as one of our Sustainability Awards 2020 finalists. We talked with Thorsten Leopold (Director International Packaging Technology Home Care) to learn more about the solution, a publicly shared software tool for evaluating the recyclability of different kinds of packaging materials.
Congratulations on being selected by the international judging panel as a Sustainability Awards 2020 finalist! Could you please introduce your successful entry and what's innovative about it?
Recyclable packaging is a prerequisite for a functioning circular economy. This is why Henkel has developed the software tool EasyD4R. It allows packaging developers to quickly and reliably assess the recyclability of packaging solutions made of plastic, paper, glass, aluminum, and tinplate and identify possible areas for improvement.
As such, EasyD4R demonstrates how digital tools can bring "Design for Recycling" to a new level.
In order to promote open collaboration and an accelerated transition to a circular economy, Henkel does not limit the tool to internal use: EasyD4R is publicly available on the company's website so that other companies and organizations can use it to develop sustainable packaging solutions more easily.
What are the environmental challenges in packaging that your entry addresses, and what impact do you hope it will make?
To tackle the global plastic waste issue, we need to transform the way we do business in a circular economy system in which all materials are either reused or repeatedly recycled. Thus, it is important that the recyclability of products and packaging is already considered from the very first ideation and design phase.
In this context, the development of the EasyD4R tool depicts an important step toward a circular economy, as the tool provides clear definitions and a consistent evaluation method for the recyclability of packaging.
The EasyD4R tool is used globally by Henkel to assess and improve the recyclability of packaging solutions. Therefore, the development of the EasyD4R tool is an important milestone to achieve our target of making 100% of all our packaging recyclable or reusable by 2025. At the end of 2019, this was already achieved for 85% of Henkel's packaging.
In July 2019, Henkel made the EasyD4R tool publicly available on its website. Since then the tool has been downloaded more than 2,500 times. The feedback received from companies and organizations has also been very positive and constructive.
I'd like to ask you about the broader picture beyond your successful entry. 'Sustainability' in packaging is multi-dimensional – both in terms of objectives and challenges. Could you comment on the most important roadblocks you identify from your position in the value chain, and the kinds of solutions you would like to see addressing them (e.g. areas of technological innovation, collaboration, regulation)?
Especially in emerging markets, sorting and recycling infrastructures are often not sufficiently developed, which can lead to plastic waste ending up in the environment.
We currently rely on partnerships and initiatives, such as our collaboration with Plastic Bank, to help address these challenges. However, a joint approach by regulatory bodies and governments could certainly address this problem on a much higher level.
The same is true for the limited availability of high-quality recycled material which often aggravates the use of recycled content in packaging solutions. Here, all partners along the packaging value-chain need to collaborate to be able to further promote the recyclability and recycling of packaging.