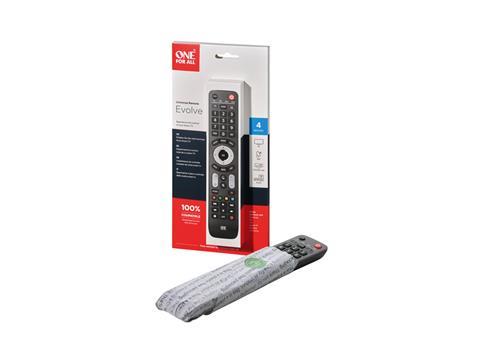 Last year, STI Group created a cardboard alternative to the existing plastic packaging for UEI's iconic 'One For All' remote control. To learn more about this solution, which is a finalist in our 2021 Sustainability Awards, we spoke with the company.
Congratulations on being selected by the international judging panel as a Sustainability Awards 2021 finalist! Could you please introduce your successful entry and what's innovative about it?
Thank you! Our entry is a seamless sustainable packaging redesign for the One For All remote control range from UEI. It's aimed at reducing plastic, CO2 and volume without compromising impact, branding or logistics.
The old plastic blister pack and protective inner plastic bag have been replaced with a high-impact cardboard eco-pouch printed with lifesize graphics and a paper wrap. Being much more environmentally conscious, this paper-based packaging is more appealing to both shoppers and retailers.
The most challenging aspect was making the redesign work with UEI's existing packaging machinery and assembly lines. Our solution meant that the product presentation did not have to fundamentally change and the new paper-based packs could be phased into the retail space gradually.
What are the environmental challenges in packaging that your entry addresses, and what impact do you hope it will make?
Single-use plastic waste that ends up in landfill or the ocean is a huge problem. For just 3 UEI remote models, eliminating the plastic blisters and bags saves 20 tonnes of plastic waste annually, while reducing the CO2 emissions associated with plastic production and the transport of higher-volume plastic blister packs.
Our mono-material design also aids recycling, as there is no plastic blister to separate from the paper on disposal. With paper recycling rates being significantly higher than plastics, our solution helps to put more raw materials back into the supply chain and support a true circular economy.
We hope UEI will continue to roll out paper-based packaging to all its products, and that other brands still relying on plastic blister packs will recognise that there are great alternatives – which don't have to be disruptive to their supply chain.
Our redesign will also have a strong impact on shoppers: helping communicate UEI's commitment to environmental and climate protection while encouraging shoppers to make better choices.
I'd like to ask you about the broader picture beyond your successful entry. 'Sustainability' in packaging is multi-dimensional – both in terms of objectives and challenges. Could you comment on the most important roadblocks you identify from your position in the value chain, and the kinds of solutions you would like to see addressing them (e.g. areas of technological innovation, collaboration, regulation)?
Sustainability is our lifeblood and an inherent part of STI Group's corporate DNA. We have a responsibility to the environment and the communities around us, now and for generations to come. We strive to develop future-oriented products made from renewable and recycled materials and to minimise our CO2 footprint with the goal of achieving net-zero emissions.
Packaging and display sustainability is most significantly influenced at design stage; much depends upon the materials selected. Alongside recycled fibres, innovative fibres from renewable crops such as grass and silphie offer sustainability benefits to our industry.
Such fibres can be grown locally and are still recyclable, supporting a zero-waste lifecycle of resources. We would like to see a range of new materials being made available to avoid such great reliance on one resource, and are already undergoing R&D with silphie papers from OutNature.
Technical developments in coatings (such as water-resistant starch coatings) are helping fibre-based materials to compete better with plastic alternatives, while remaining fully recyclable. As pioneers in packaging, we're leading the way when it comes to testing and implementing new coatings.
While paper already has high rates of recycling, we would still like to see recycling capabilities improved and enforced – for paper and other types of packaging. Locally in Germany, we have strict packaging legislation that requires the introducers of single-use packaging to ensure it is recyclable. Facilities are not as consistent across Europe and recycling rates are lower in some countries, so improving and aligning legislation in this area would be a huge benefit.
Climate-neutral production is mentioned a lot these days, although in our view this only works in concert with careful resource use and more environmentally efficient solutions. Offsetting unavoidable emissions through environmental and community projects around the world offers brands a chance to improve their sustainability instantly and take responsibility for their impact on the planet. We work with ClimatePartner to support all clients who wish to pursue a climate-neutral packaging strategy.
Finally, there is an often-unnoticed side effect from sustainable packaging initiatives: machine performance. Designing a sustainable packaging solution that requires new machinery creates an environmental footprint of its own, while also making existing machines and tools redundant. This is why we focus on the whole value chain when developing solutions, with the aim of using – or if not possible, repurposing – existing equipment to reduce this kind of waste.