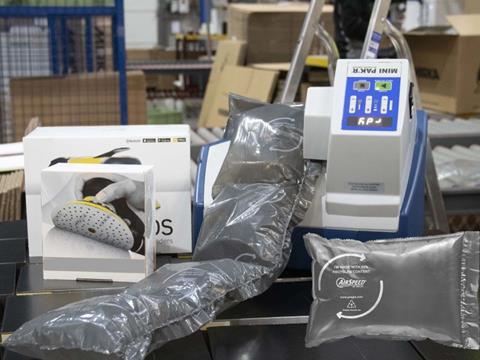 Air cushions play a crucial role in e-commerce. In the latest of our Sustainability Awards finalist interviews, we find out about RENEW, a recyclable air cushion made from 50% PCR plastic, created by Pregis and GCR Group.
Congratulations on being selected by the international judging panel as a Sustainability Awards 2021 finalist! Could you please introduce your successful entry and what's innovative about it?
RENEW is an air cushion made out of 50% post-consumer mechanically recycled (PCR) plastic and is 100% recyclable. Air cushions are used in e-commerce to void fill and block & brace products for optimal protection. RENEW is developed as a collaboration between Pregis, the manufacturer of the air cushion and GCR Group, the producer of high-quality recycled polyolefins. Both companies are committed to minimize the impact on the environment and develop products that contribute to a circular economy.
With this eco-design solution, we managed to reduce the use of virgin polymer and achieve a high content of PCR in the product, thus reducing the environmental footprint of the growing e-commerce market. The innovative aspects of RENEW air cushions are:
• Give a second life to consumer waste and contribute to circularity. It is a unique product where half of the materials used come from post-consumer waste. This material, produced by GCR under the brand CICLIC, is PCR EuCertPlast certified.
• Maintain full functionality providing optimal protection of products, even though it is commonly acknowledged that PCR plastics are less performing and show less quality consistency than virgin polymers. Pregis incorporation of Ciclic PCR in its multilayer extrusion process proves to be successfuland even down gauge the original virgin polymer structure without loss of performance.
• Encourage consumers to accept variations of recycled material, such as colour. In this product, we accept different shades of grey and refrain from using additives - potentially less sustainable ingredients - to create a consistent color. Promotion of the product with the claim "GREY IS THE NEW GREEN" focuses on creating awareness for PCR content and benefits for the environment. With success. We receive positive feedback and a high level of interest from the market.
What are the environmental challenges in packaging that your entry addresses, and what impact do you hope it will make?
We aimed to develop a solution for the rapidly growing e-commerce market which provides resource efficiency and plastics circularity. Raw materials are responsible for the highest portion of environmental impact of a packaging. Replacing 50% virgin material by PCR plastic helps to achieve significant savings in environmental impact. Thanks to downgauging, this product consumes 18% less material while keeping the functionality same. We performed cradle-to-gate Life Cycle Analysis (LCA) and the results showed that RENEW has 52% less CO2 emissions compared to one made of only virgin materials. Last but not least, in this product we joined forces in the supply chain as the raw material supplier and the manufacturer of the packaging to develop a sustainable solution and to make its sustainability assessment. We really hope that such practices become more common to be able to assess the full life-cycle of products.
I'd like to ask you about the broader picture beyond your successful entry. 'Sustainability'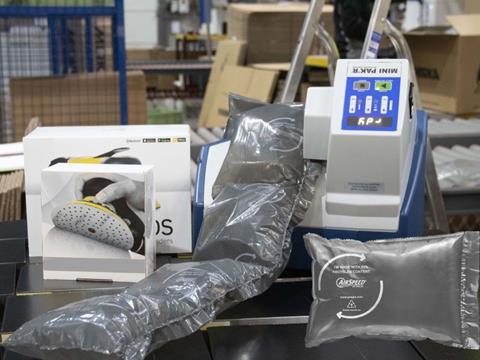 in packaging is multi-dimensional – both in terms of objectives and challenges. Could you comment on the most important roadblocks you identify from your position in the value chain, and the kinds of solutions you would like to see addressing them (e.g. areas of technological innovation, collaboration, regulation)?
For sustainability in packaging we need to achieve circularity, meaning promoting the use of recycled material and guaranteeing recyclability. Therefore, regulations as well as cost of recycling process and recycled products are the key parameters. We also believe that collection and sorting are the main challenges to sustainability in packaging. We should think about effective collection systems, where consumers can easily participate, in combination with advanced sorting technologies. Another important point is the consumer's demand. We all know how powerful the consumer is to create change, especially with the brand owners. Obviously, recycled materials may have different characteristics than virgin materials, such as color. If this is acceptable for the consumer and they ask for more products with recycled material, brands will be challenged to comply.