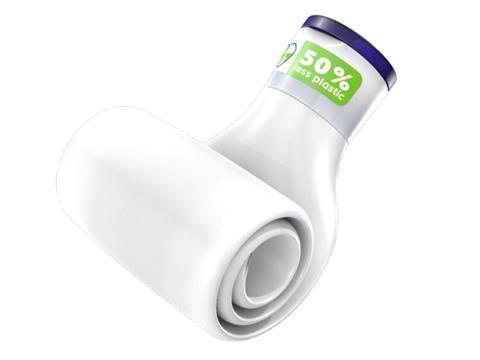 On the day before the big day, we speak to Beiersdorf, a Resource Efficiency finalist in our Sustainability Awards 2021, and find out about the Nivea Naturally Good body lotion, packaged in a bottle that is made from 50% less plastic and is rollable.
Congratulations on being selected by the international judging panel as a Sustainability Awards 2021 finalist! Could you please introduce your successful entry and what's innovative about it?
As a skincare company that cares beyond skin, we develop and offer safe and high quality products which care for the skin and the planet. With the new packaging of our NIVEA Naturally Good Body Lotions, we brought a more environmentally friendly and more sustainable product to the market that answers consumer needs for more transparency, more naturalness and more sustainability.
The NIVEA Naturally Good Body Lotions have been developed with the intention of using as many naturally derived ingredients as possible. 98% are naturally derived and 2% are non-natural additional ingredients guarantee stability and safety of the formula and ensure a smooth and spreadable texture which makes the use of the product very convenient. All our key line ingredients aloe, cocoa, oat and avocado, are 100 % natural. And besides that, the formulas are 99 % biodegradable and completely vegan.
We created a packaging made of 50 % less plastic compared to our current packages. This was achieved by reducing the cap and bottle weight as much as possible, whilst still ensuring stability, protection of the formula from external influences like UV rays and easy usage. This makes it a more sustainable option on the one hand, but also extremely practical on the other. The amount of plastic that we have saved means that the packaging is thinner and more flexible. Thanks to that and the new bottom shape, you can squeeze it, roll it up and easily empty any remaining product.
What are the environmental challenges in packaging that your entry addresses, and what impact do you hope it will make?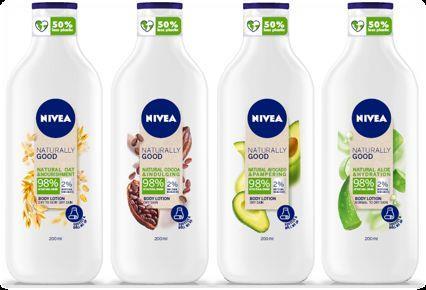 The packaging of our NIVEA Naturally Good Body Lotions is the first lightweight bottle and cap on the market which can be used as usual consumers even though we have achieved a plastic reduction of 50%. And it is the first truly "rollable" bottle in the skincare market. This is taking sustainability to the next level, because it is a holistic solution - more sustainable packaging by halving the amount of plastic used, a more sustainable formula and optimized emptying of remaining product, which results in less waste in the recycling bin. All packaging materials except the glue are 100 % recyclable. The screw cap allows the cap and bottle to be easily separated and disposed of. The bottle and label material are made from PE, and the cap is also made of a polyolefin, namely PP. As the consumer is not used to disposing of cap and bottle separately, we achieve a recycling rate of up to 95.5 %. Due to the reduced material usage, considerable CO2 savings are achieved. The packaging also offers an intuitive and easy-to-understand consumer benefit of rolling up the bottle to achieve better emptying.
We pushed the boundaries of what is technically feasible in order to develop a stable, yet more sustainable packaging reducing upmost packaging material. We are also convinced that the reduction of material in the packaging will be a must to protect the environment in the future. Perhaps it can become the industry standard for how to implement the Reduce aspect within the 4R framework ("Reduce, Recycle, Reuse und Replace")
I'd like to ask you about the broader picture beyond your successful entry. 'Sustainability' in packaging is multi-dimensional – both in terms of objectives and challenges. Could you comment on the most important roadblocks you identify from your position in the value chain, and the kinds of solutions you would like to see addressing them (e.g. areas of technological innovation, collaboration, regulation)?
Our product packaging is to a large extent made of plastic. Plastic has many advantages, such as its light weight, great stability and high flexibility with regard to colours and shapes. But the amount of plastic that is being used around the globe has by far exceeded planetary boundaries, especially in the area of fast-moving consumer goods that are purchased and consumed on a daily basis. To counteract this, we at Beiersdorf are working intensively to optimize our product packaging according to the four sustainability principles of "reduce, reuse, recycle and replace". In addition, we dedicated a focus field to this important topic: "For Fully Circular Resources". It defines clear targets for a more sustainable packaging approach and anchors this within our new sustainability agenda CARE BEYOND SKIN. We have set ourselves ambitious targets for sustainable packaging. By 2025, we aim for 50% reduction of fossil-based virgin plastic, 30% recycled material in our plastic packaging and 100% of our packaging refillable, reusable or recyclable by 2025.
With our light-weighted bottle we have focused on the principle reduce, the most important starting point. The main challenge for this project was to adjust the whole supply chain - from delivery of empty light-weighted bottles and caps, filling and labelling of the light weight and flexible bottles and safe transport to trade. This new, flexible and sensitive packaging required lots of attention, and at the end we managed it successfully.