Prior to the big unveil of the winners in the pre-commercialised section of our Sustainability Awards on November 14th in Amsterdam, we are finding out more about our finalists. Today, it's the turn of Insignia Technologies' After Opening Freshness Timer, a finalist in the Active and Intelligent category.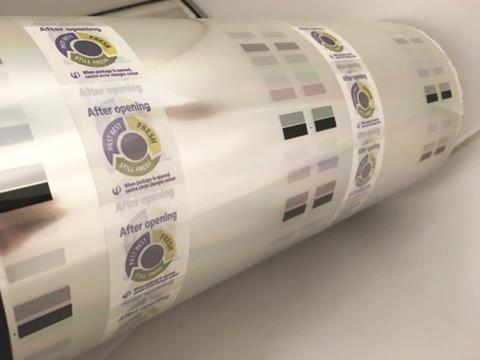 You're a finalist in the Sustainability Awards 2022. Congratulations! To start off, could you summarise your entry, the After Opening Freshness Timer, in less than 50 words?
To combat unnecessary food waste, Insignia have developed a revolutionary ink-based indicator capable of measuring time and temperature. With food packaged under modified atmosphere e.g. cooked meats, the After Opening Timer provides a visual indication of freshness based on how long products have been opened rather than flawed 'used-by dates'.
Why do you think the judges were impressed with your entry? Tell us about what is innovative about your project and/or about its impact on packaging sustainability.
The UN estimates that one third of the food produced globally is wasted each year and food waste has been identified as one of the top sustainability problems worldwide. The exponential growth of food production and the scale of waste are inextricably linked. Insignia believe they have developed a solution which is not only reliable at monitoring food freshness but a solution that is scalable.
The After Opening Timer incorporates Insignia's innovative smart ink which activates when the consumer opens the food package, gradually changing colour to indicate the time elapsed since the product was opened. Helping consumers to understand the true freshness of their food, the After Opening Timer is also able to correlate the colour change based on storage temperatures, with higher temperatures causing a faster deterioration in the food and lower temperatures helping preserve the freshness and quality.
Insignia's After Opening Timer provides a greater degree of accuracy on how fresh a product is, and we believe will eventually remove the need for food consumption guidelines which err too far on the side of caution, which recommend early disposal. This innovation has the potential to revolutionise the way that guidelines for food consumption are set, significantly impacting and reducing the amount of food (and its associated packaging) being unnecessarily wasted.
Insignia's technology will change consumer behaviour and "if in doubt, throw it out" will become a thing of the past.
When and how do you intend to launch this innovation?
The After Opening Timer is in the final stages of scale up and will be available for licensing and purchase by the end of Q3 2022. Initial foods targeted for this innovation have been cooked meats, however because of its applicability to any modified atmosphere packaged product, we expect this to branch into areas of dairy and raw meats. Consumer research and feedback has been carried out and initial discussions are ongoing with potential European supermarkets and packaging developers across the globe. Our goal is to offer favourable terms to early adopters to ensure that uptake is widespread and barriers to roll out to end consumers is as low as possible.
You're shortlisted for the Active & Intelligent (Pre-Commercialized) category. What do you see as the key demands, challenges and opportunities in relation to active and intelligent packaging?
Active and intelligent packaging have a critical role to play in modernising supply chains, improving product safety and consumer experiences. In the food sector it can be used to help product traceability and security, ensure food safety, increase shelf life, and reduce food waste. It can also be used to help brands add value to their products and differentiate themselves from their competitors.
Although the concept of active and intelligent packaging has been around for many years, many products are yet to make a significant impact on the industry due to the challenges being faced, in particular cost of uptake. A rise in costs is being experienced across all sectors, with many finding innovation hard to justify. In the food sector, many brands and retailers are reluctant to increase prices for the consumers and so any added costs would need to be absorbed. It is important, therefore, that the value and benefits of active and intelligent packaging are seen to outweigh the cost. Manufacturers of active and intelligent packaging face the challenge of ensuring they do all they can to keep their product as cost effective as possible to make widespread adoption possible.
Innovation has the potential to add process steps or complexities to manufacturing, again, raising a barrier to adoption. This is one of the primary reasons Insignia opted to produce its technology in an ink-based format, easing integration within existing manufacturing process.
One final aspect which may provide a challenge for this market is consumer acceptance and confidence in new technologies. Education is key to any new active and intelligent packaging innovation. Bringing consumers along on the development journey and ensuring that their problem stays at the fore of any research or commercialisation project is and will continue to be vital for success. Without confidence from the end consumer, no innovator can truly change the industry for the better.