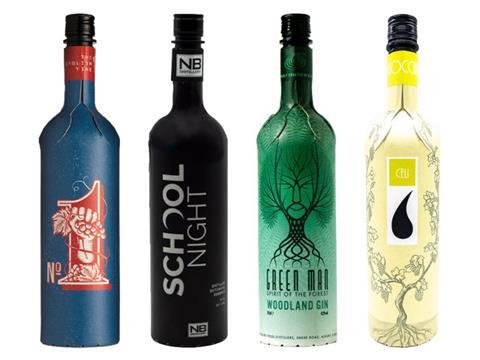 As the countdown is running to the big unveil of the Sustainability Awards 2021, winners, we find out more about Frugalpac's Frugal Bottle, which is made from 94% recycled paperboard, and the machine that puts it together.
Congratulations on being selected by the international judging panel as a Sustainability Awards 2021 finalist! Could you please introduce your successful entry and what's innovative about it?
Thank you. We're really pleased to be nominated for Best Machinery for the Sustainability Awards. We've achieved an awful lot in the past year and this nomination is the icing on the cake.
Frugalpac is a British sustainable packaging company with a global mission to decarbonise food and drink packaging. We create and supply recycled paper-based products with the lowest carbon footprint that are easily recycled again.
In June 2020, we launched the Frugal Bottle – the world's first commercially available paper bottle for wine, spirits and olive oils. The Frugal Bottle was created to help a drinks industry keen to cut carbon emissions and appeal to a new audience of consumers keen on sustainability.
The 75cl Frugal Bottle is made from 94% recycled paperboard with a food grade pouch. It's five times lighter than a glass bottle, uses 84% less carbon and offers 360-degree branding for exceptional shelf stand-out.
The Frugal Bottle, which is comparable in cost to a labelled glass bottle, was designed and developed at Frugalpac's innovation centre in Ipswich.
Frugalpac's business model is to create and supply Frugal Bottle machines for wine producers, co-packers and packaging companies to manufacture the bottles on site, thereby reducing the carbon emissions from the transportation of glass bottles to bottling facilities.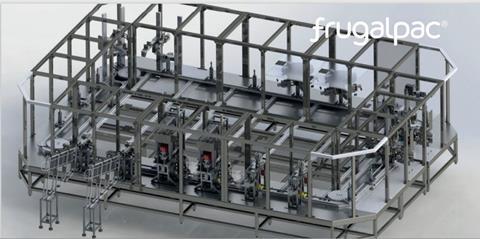 Our Frugal Bottle Assembly Machine (FBAM-1) assembles the Frugal Bottle, a 75cl Bordeaux shaped bottle designed for wine, and similar beverages from input components of pre-printed die-cut recycled paperboard parts, pre-made liner pouches, neck labels and required water-based adhesives.
It can produce a nominal 630 bottle units per hour and has been constructed to deliver continuous operation 24 hours per day x 7 days per week, 49 weeks per year, excluding maintenance requirements.
What are the environmental challenges in packaging that your entry addresses, and what impact do you hope it will make?
There are several reasons why the Frugal Bottle and the FBAM1 helps drinks brands looking to be more sustainable.
• It's lighter. The Frugal Bottle weighs just 83g so it is up to five times lighter than a normal glass bottle, making it easier to carry and lighter to transport.
• It's better for the environment. An independent Life Cycle Analysis by Intertek found the Frugal Bottle, which is made from recycled paperboard with no chemicals, has a carbon footprint up to six times (84%) lower than a glass bottle and more than a third less than a bottle made from 100% recycled plastic. The Frugal Bottle's water footprint is also at least four times lower than glass.
• It's easy to recycle again. Simply separate the plastic food-grade pouch from the paper bottle and put them in your respective recycling bins.
• It uses less plastic than a plastic bottle. The Frugal Bottle uses up to 77% less plastic. Only 15g compared to a 64g bottle made from 100% recycled plastic. The food grade pouch is a polyethylene metallised polyester laminate, the same material used in bag in box wines. It is recyclable.
• It stands out. As the Frugal Bottle is made from recycled paperboard, it allows for 360-degree branding across the bottle. No other wine or spirits bottle looks or feels like it, so it stands out on shelf and table.
• It's better for wine producers. The Frugal Bottle can be produced in the heart of their bottling facility, offers complete freedom on design and print, is more cost effective to transport while reducing their carbon footprint.
Since launching in June 2020, Frugalpac has enquiries to make 90 million Frugal Bottles and is calling on paper, packaging and co-packer companies to meet the increasing global demand for paper bottles by buying their own Frugal Bottle Assembly Machine.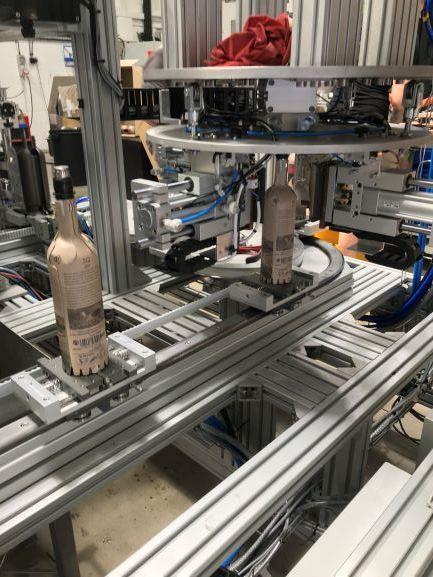 Frugalpac is currently making Frugal Bottles for Cantina Goccia's range of wines, The English Vine and its No1 white wine, England's Silent Pool Distillers for its Green Man Woodland Gin, and Scotland's NB Distillery who have launched the first low carbon AND low alcohol botanical spirit in a paper bottle called School Night.
We're also producing Frugal Bottles for sake for Japan, olive oil for Greece's AEONS, Planet B red wine for Spain's Bodegas Murviedro and will soon by launching in the US with an American wine brand.
I'd like to ask you about the broader picture beyond your successful entry. 'Sustainability' in packaging is multi-dimensional – both in terms of objectives and challenges. Could you comment on the most important roadblocks you identify from your position in the value chain, and the kinds of solutions you would like to see addressing them (e.g. areas of technological innovation, collaboration, regulation)?
The main issue we'd like to see resolved is sourcing recycled paperboard in the UK.
At present we have to import some from Germany but we'd like to source all of the paperboard here.
I think we've proven that there's a potentially huge global demand for paper bottles and this is a great opportunity for companies from co-packers, to printers and paper and packaging manufacturers to buy their own Frugal Bottle Assembly Machine.
With enquiries to make 90 million bottles, it's literally a licence to print money!