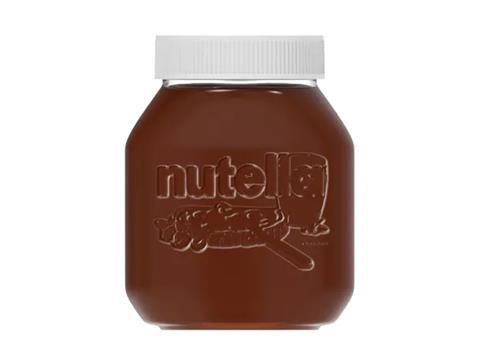 As part of its drive to make 100% of its packaging reusable, recyclable or compostable by 2025, Ferrero has revealed four new projects.
The company's Nutella brand has joined forces with Loop and Carrefour for a reuse pilot scheme in Paris, France. Through the new scheme, shoppers will be able to purchase a specially designed reusable Nutella jar from one of the ten pilot stores or the Carrefour website for which they pay a deposit. Carrefour will then collect the empty jars for washing and reuse.
Ferrero's in-house design team worked closely with Loop's experts to develop the new pilot Nutella jar, the first of its kind. The result of this collaboration is a specially designed jar that the company says is durable, safe, hygienic – featuring an optimised label and seal that can be removed during the wash cycle.
After signing the New Plastics Economy Global Commitment in 2019, which is led by the Ellen MacArthur Foundation and the UN Environment (UNEP), Ferrero has also now become a member of the Ellen MacArthur Foundation, taking part in the New Plastics Economy initiative.
Ferrero will look to play an active role in New Plastics Economy Initiative, working on shared R&D and innovation projects including efforts to continue driving the transition to a circular economy for plastic.
In the field of packaging design, Ferrero's R&D department has created a new recyclable packaging for Kinder Happy Hippo that reportedly meets the CEFLEX recyclability guidelines for flexible films and with an improved recyclability profile. The new packaging, featuring a new polypropylene mono-material structure, is now available for purchase.
Ferrero has also announced its membership of the 4evergreen alliance – an industry group that aims to boost the contribution of fibre-based packaging to the circular economy. Through the 4evergreen alliance, Ferrero hopes to engage with industry members from across the fibre-based packaging value chain.
"We are continuing to make good progress on our journey to make 100% of our packaging reusable, recyclable or compostable by 2025. These are important steps forward that underline our commitment to working in collaboration with others and we look forward to sharing further updates on our progress soon," said Fabio Mora, global packaging director at Ferrero Group.