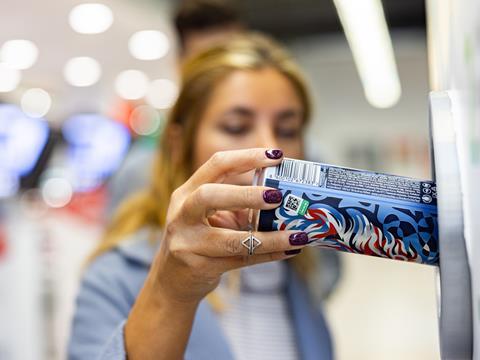 In order to make deposit return systems a success, understanding consumer behaviour is crucial. An innovative pilot scheme is currently underway in Serbia, which is using smart technology to gather data on how consumers interact with DRS in a bid to make its use more widespread.
To learn more about the aspirations of the project and its potential to shape the future of the field, we caught up with Jelena Petljanski Kis, sustainability and public affairs manager at Ball Beverage Packaging Europe, which is a key stakeholder in the project.
To start things off, can you give us an overview of the project in Zrenjanin? What's happening, and how does the process work?
In the Serbian city of Zrenjanin, we're part of a team piloting the use of smart labelling and mobile technology to make recycling simpler, more transparent, and universal to all packaging. Through the scheme, we aim to also understand whether consumers prefer a system with machines to return packaging or with the support of trained people and how they like to use smart systems in recycling.
Retailer Mercator-S, the largest retail chain, is applying a new data matrix label with special security pigment on up to one million packages including glass bottles, beverage cartons, PET bottles, and cans. We have teams of people organized to manually label the products and activate codes in stores.
Once purchased, consumers can either then return the packaging to the Mercator-S stores or at new kiosks positioned in six public spaces being trialed by the City of Zrenjanin.
The project is using a number of different types of returning mechanisms. These include five reverse vending machines capable of scanning all four packaging types. Sensors read the unique codes on packages and enable the correct separation and compacting of each material.
We also have nine digital 'E-bins' which can also process all four packaging types. These are complemented by six handheld scanners operated by people to be deployed in specially commissioned kiosks in non-retail locations.
More than 200 different labels and packaging formats are included in the project and we have the strong support of brands in marketing activities.
What role does each of the stakeholders play in the initiative? Why were the individual stakeholders selected?
The project, called the 'Smart Urban Packaging Waste Collection System', is supported by the German development agency Deutsche Gesellschaft für Internationale Zusammenarbeit (GIZ) GmbH, with Ball Corporation's packaging division as the leading private partner.
The returning technology has been developed by the Serbian start-up Solagro, together with IT specialists RLG who are experts in systems design and reverse logistics. Leading national Extended Producer Responsibility (EPR) scheme operator Sekopak is organising the participation of brands and providing the collection operations.
We could not have made this happen without the strong support of the City of Zrenjanin, secured by GIZ and NALED – National Alliance for Local Development, who also supported with the media relations and marketing of the project.
Could you give us an insight into the role of software and data in the project?
The software enables the tracking of every single packaging unit, right from the shelves to the point of collection. Data gathered through the project are definitely providing clear insight into the packaging types available for sale. The labels system also produces detailed info on recycling numbers per location, and the channels used by consumers to return their used packaging.
Processing this data will help to improve operational management and to enable the more efficient collection of materials. Key to this innovation is that the whole process of returning of packaging is being run via a web application optimised for mobile phones, which gives brands and relevant organisations numerous opportunities to communicate with consumers.
Have you had any feedback from consumers on how the project is going? What suggestions have consumers made?
The project began in December and we are now organizing surveys for consumers in Zrenjanin to understand their experiences and attitudes. We want to find out the most preferred ways of returning packaging – via machines or people, the preferred locations – public or retail, and much more.
During the initial phase of the project, we have introduced the system and are monitoring how well it is functioning. Not all products in Zrenjanin are currently labelled, but it's interesting that we have noticed that people are attempting to process unlabelled products as well.
We're now working with brands to develop marketing activations that both reward citizens and provide more detailed information on the system.
On that note, do you think there is anything you or other stakeholders can do to improve this project or ones in the future? What have the key learnings been?
The project will be active until Q3 2023, and the key learnings will follow. What we have discovered already is that to enable serialized labelling, we need to understand how it can be done during the manufacturing and filling processes. We'll need to assess any effects on production speeds and the resulting financial impacts.
In this current project, we incentivise consumers to participate in smart recycling with discounts in shops and some special rewards. We anticipate that by applying financial mechanisms such as deposits, the return rate of packaging would be maximized. By gathering more data and enabling more transparent packaging flows we expect to generate many more ideas on how to enable more responsible production and consumption.