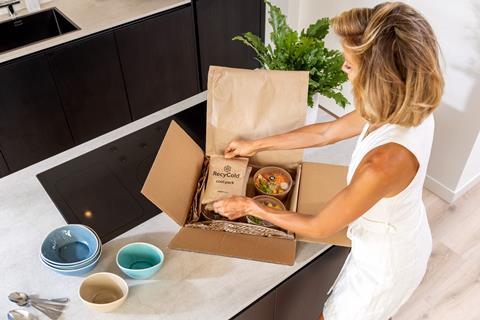 Next in our Finalist Interview series for the Sustainability Awards is Ranpak with its total cold chain packaging solutions. We spoke to the company about this entry, nominated in the commercialized E-commerce category.
You're a finalist in the Sustainability Awards 2023. Congratulations! To start off, could you summarise your entry, in less than 50 words?
Paper's insulation value is highly competitive, and Ranpak's total thermal packaging solutions include paper-based insulating RecyCold® climaliner™ combined with highly sustainable RecyCold® cool packs. That means a wide range of benefits across many different cold-chain applications – providing reliable temperature control for the Cold Chain food and beverage markets.
Why do you think the judges were impressed with your entry? Tell us about what is innovative about your project and/or about its impact on packaging sustainability.
Paper keeps it cool! Our paper solution is recyclable, renewable and biodegradable. The thermal box liner protection lasts for up to 48 hours for ambient, chilled and frozen products. The liners are thin, which means they optimise box volumes and offer box size flexibility. One-way packaging saves on return flow. This ensures a unique unboxing experience for customers.
How has your innovation/initiative been received?
At this moment the total Cold Chain solution (RecyCold® climaliner™ combined with RecyCold® cool packs) from Ranpak is the most sustainable solution available on the market. We've been receiving positive feedback from our customers in this market as they are looking more and more into sustainable solutions to replace plastic solutions to fulfil their global goals on sustainability. Although it's only recently on the market, it's already implemented in UK and Europe.
You're shortlisted for the E-Commerce category. What do you see as the key demands and challenges in relation to packaging for the direct-to-consumer channel?
From the consumer perspective, sustainability is very important. Plastic solutions are simply no longer accepted. A surplus of packaging material (both paper and plastic) is also what many consumers are struggling with. Less is more. Packaging material should also be recyclable. This is where a lot of value is put on our climaliner, but especially our cool packs. After (re)cooling, the cool packs can also be used for a day at the beach, for cooling a cooler bag and also directly on bruises, for example.
What do you think are the main opportunities in this area or what future innovations do you predict in this area?
The main opportunity is to replace all plastic thermal liners and plastic cool packs with sustainable products made from paper.
The winners of the Sustainability Awards 2023 will be announced at the Sustainable Packaging Summit, which takes place in Amsterdam on 14-15 November. The Summit mobilizes leaders of the FMCG value chain, policymakers, NGOs, recyclers and investors to collaborate, remove barriers and identify opportunities on the road to sustainable transformation.
To learn more or register, visit https://www.packagingsummit.earth/amsterdam2023/.