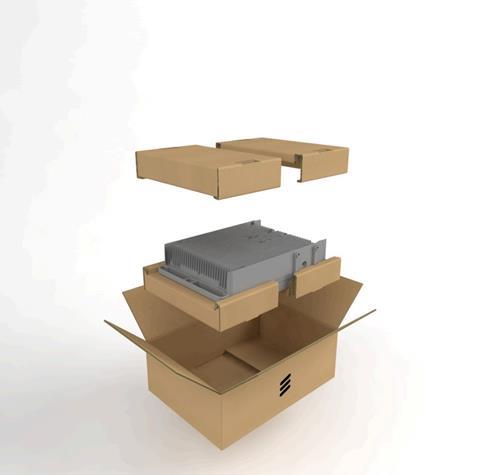 Next in our Finalist Interview series for the Sustainability Awards is Ericsson with its wood-fibre based packaging. We spoke to the company about this entry, which has been nominated in the pre-commercialized Driving the Circular Economy category.
You're a finalist in the Sustainability Awards 2023. Congratulations! To start off, could you summarise your entry, in less than 50 words?
The greatest challenge to overcome was developing paper-based packaging that works for heavy telecom equipment and in doing so contribute to circularity.
By moving from oil-based plastics to wood fibre we will reduce the use of fossil-based materials, make packaging easier to recycle and reduce the risk of plastic pollution.
Why do you think the judges were impressed with your entry? Tell us about what is innovative about your project and/or about its impact on packaging sustainability.
The innovation comes from moving from a complex packaging design challenge to creating something that is perceived as simple but at the same time is both sustainable and maintains supply chain efficiency.
The main challenge when we started was to guarantee product protection for heavy telecom equipment. These are B2B [Business to Business] products that are exposed to considerable stress in global distribution supply chains. The packed product may end up on a mountain side in Bolivia or a crowded city in India. We therefore have demanding test requirements that our packaging solutions must meet.
Wood-fibre based material doesn't have the same outstanding properties as plastic foams, which increases the challenge. Another challenge was to prevent abrasion on the product surfaces in contact with wood-fibre material without the need to add plastic components. The vibration that occurs during transportation, in combination with rough paper surfaces, is harmful to the product's surface finish. We solved this by using a coating on the paper which prevents abrasion without affecting the recyclability of the paper.
Our innovative packaging concept is 99.9% plastic free which makes recycling easier and reduces the risk of plastic pollution. Material usage is optimised to reduce weight and size, while still providing full product protection in uncontrolled global distribution chains according to the chosen test standard. The design allows for easy packing and unpacking and uses a modular design for the inner cushioning components, making it possible to reuse them for different product variants with varying dimensions.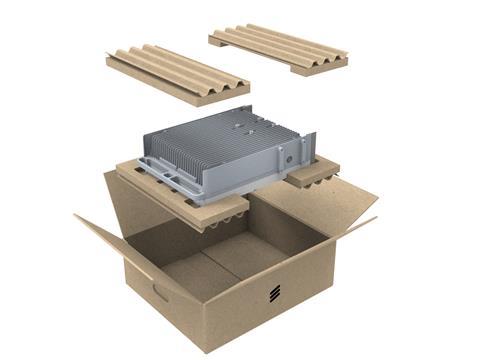 When and how do you intend to launch/commercialize this innovation?
At the end of this year.
You're shortlisted for the pre-commercialized category 'Driving the Circular Economy'. What do you see as the key demands and challenges in relation to circularity in packaging?
Ericsson is a global company supplying customers all over the world. What we see is that well-functioning markets for fibre-based materials are common, with high rates of collection and many small-scale local actors able to benefit. This is not the case for plastic materials, even the clean, easy to recycle materials that we use, and the final fate of much of the material is often unclear. Secondly, there are perceived benefits in the use of renewable materials.
What do you think are the main opportunities in this area or what future innovations do you predict in this area?
The main opportunities in this area are concerned with increasing maturity of the technology and markets for wood-fibre based packaging. Continued innovation will bring better technical performance, continued optimisation of resource use and lower costs while at the same time increasing overall recycling rates and mitigating the risk of plastic pollution. We anticipate that new types of wood-fibre based packaging materials with better properties will be increasingly become available.
The winners of the Sustainability Awards 2023 will be announced at the Sustainable Packaging Summit, which takes place in Amsterdam on 14-15 November. The Summit mobilizes leaders of the FMCG value chain, policymakers, NGOs, recyclers and investors to collaborate, remove barriers and identify opportunities on the road to sustainable transformation.
To learn more or register, visit https://www.packagingsummit.earth/amsterdam2023/.