Following careful consideration, Packaging Europe will now be delivered in a compostable film wrap. Here we explain the process through which we applied questions about sustainable material specifications to our own physical product.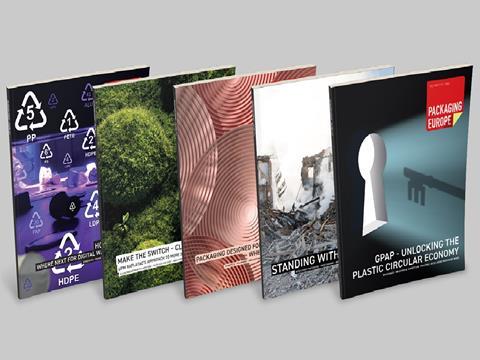 Over the years we've occasionally received feedback from readers challenging us about using flexible plastic wrap (low density polyethylene) for our magazine. While we've seen in our own coverage that flexibles are sometimes the most resource efficient option, we know that sustainability is multi-faceted and choices often involve nuanced trade-offs.
We set out a process to review our packaging, involving market research, speaking to material suppliers about alternative options, and audience consultation. Here are the alternative options we found from our suppliers:
Firstly, the original LDPE packaging. This is by far the most cost-effective available option. It scores highly in terms of resource efficiency but, despite being recyclable, we know that recycling of flexible packaging is still far from universal, so in many cases, the wrap will be incinerated or, worse, end up in landfill.
The second option was an oxo-degradable film, which due to the presence of additives breaks down in light and oxygen. This is the cheapest of all of the alternative packaging options we encountered. However, we immediately rejected it in line with Packaging Europe's general opposition to oxo-degradables, as we consider breaking down materials into micro-plastics as inherently bad sustainability practice.
The third option was a compostable film derived from potato starch. The cost of this was 580% of the original HDPE film. It is not recyclable, but it is home-compostable and will eventually biodegrade if it ends up in landfill.
The fourth option was a paper envelope. The cost of the material was similar to the compostable film, though the filling costs would be considerably higher. Paper is recyclable and widely recycled. On the other hand, it is heavier and we guessed (though we were unable to access full LCAs) this envelope had a higher carbon footprint than the compostable film.
A final idea we explored was eliminating packaging altogether. Our distributer advised that we would need to come up with a means to close the sides of the magazine, as if the magazine were opened in the distribution chain, inserts could fall out, other mail could be trapped, and magazines could be torn or creased.
Audience consultation
With this information, we consulted our audience. Having sent a survey to around 10,000 subscribers, here were the results we received: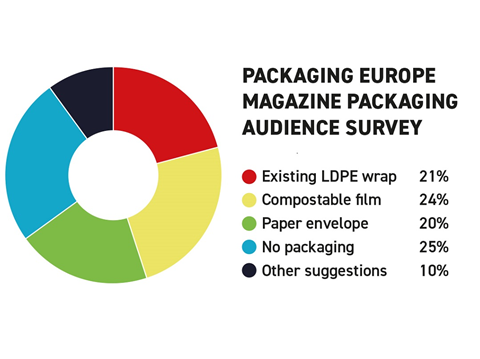 A further 10% proposed alternative approaches. Several suggested switching to digital content only. Others suggested different types of flexible packaging, such as bio-based or recycled polyethylene, or Paptic®. No packaging was the favourite option, but only by a small margin, and overall just over half of respondents favoured some form of flexible packaging.
Final deliberations
Meanwhile, our distributor reported back on the practicalities of the 'no packaging' option. A system using transparent, perforated labels to close three sides of the magazine was identified. These would probably be added manually, adding cost. We were also informed that key markets Germany, France and Switzerland would not accept magazines without packaging unless they were sent via standard mail rather than discounted press routes, which would add several thousand euros per edition in costs. In addition, we were concerned that adding the plastic perforated label to the 'no packaging' magazine was in itself an environmental disadvantage: due to its small volume it would probably not render the magazine unrecyclable in the paper stream, but it would introduce non-fibre pollutants into recycled paper which led us to reject this option.
We next eliminated the heavy paper envelopes on the basis that the cost was higher and we believed that the carbon footprint would also be higher.
This left us with a choice between the existing LDPE wrapping and the potato starch-based compostable wrap. Compostable was more expensive, but slightly more popular with readers. The compostable wrap has inferior strength and would provide a lower shelf-life for perishable goods, but we judged it would be sufficient to protect our magazine from the rigours of transit.
Therefore, from the June 2022 edition Packaging Europe magazine will be delivered in compostable potato starch-based film. However, we'll continue to reassess the packaging options available to us. As the value chain builds, through CEFLEX and other mechanisms, toward universal collection and recycling of flexible packaging across Europe, it may be that one day our LDPE wrap makes a comeback, ideally with bio-based or PCR content. Sustainability never stands still.