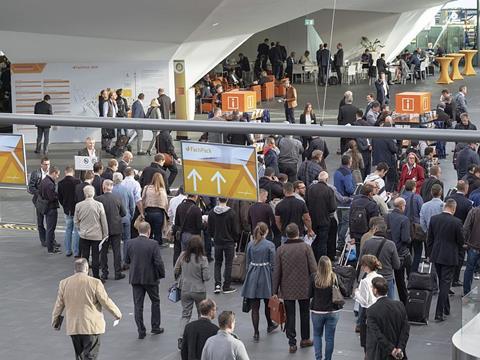 Mondi showcased its BarrierPack Recyclable, a fully recyclable packaging laminate, which also won a German Packaging Award in the 'Sustainability' category. Another eye-catching feature of the
Mondi stand was result of a collaboration which is the subject of Packaging Europe's cover story this month: the recent jointly developed, fully recyclable solution in partnership with customer Werner & Mertz, owner of the Frosch ('Frog') brand of cleaning products. This patented polyethylene mono-material pouch has detachable decorative panels and is 100 per cent recyclable. Starting in 2019, it will replace conventional flexible packaging for Frosch products.
Jindal Films demonstrated a breakthrough OPP film technology, ULTRASEAL, at FachPack. Its unique heat seal performance capabilities are designed to replace blown polyethylene or cast polypropylene films used in flexible packaging laminates.
BICOR™ 40 & 50 MB344US films are the first products to benefit from Jindal Films' new ULTRA SEAL technology which consists of a new high clarity, oriented polypropylene (OPP) film range featuring high seal strength, low seal initiation temperature and exceptional hot tack performance. The technology provides robust seal performance in numerous packaging formats, especially pouch and stand-up pouch applications.
This new range of films will meet the increasing need across Europe to provide "design for recycling" solutions which are preferably based on mono-materials.
Paper from grass
Zanders presented 'Zangrass' at the show – an uncoated, tactile paper with grass content with a substantial carbon footprint reduction relative to other papers. Offering both surface and substantive green credentials, grass content in paper is an increasingly attractive solution for sustainability-conscious brands, also exemplified by 'Graspapier' - a Packaging Europe Sustainability Awards winner in 2017 by Scheufelen. The range (available in 120 and 150 gsm versions) contains between 20 and 40 per cent virgin fibres from sun-dried grass in the form of pellets supplied by Creapaper. Grass fibres are combined with bleached pulp.
The optical and tactile natural character of Zangrass is topped off by the uncoated, textured surface which advertises its own naturalness. More importantly, carbon emissions can be reduced by up to 75 per cent compared with pure fibre-based papers, and the water consumption is lower. In terms of performance, Zanders attests to very good stability and processing properties. The series is suitable for flexo printing.
Speaking to Packaging Europe at FachPack, Zanders revealed that it intends to bring significant tonnage of its grass paper to market over the coming year and is conducting research on extending its range of market applications and expanding the product range to lighter and heavier weights. For the time being Zangrass is mainly selling into the organic and natural products segment.
Centralised adhesive supply
Baumer hhs has expanded its product range for glue application and quality assurance with the launch of Xfeed, a centralised adhesive supply system for hot melt units, at FachPack.
The automated, closed-loop system supplies adhesive granules on-demand to up to 20 hot melt units from a central storage location, bridging incomparably long distances of up to 200 metres even at high feed rates. In addition to the Xmelt family of hot melt units from Baumer hhs, the Xfeed is also compatible with systems from all other manufacturers.
"Our customers want just one representative for their entire gluing process if at all possible. They want to be able to get all the system components and services they need from a single source. In response, we introduced the Xfeed to round out our range of hot melt application products for end-of-line packaging," explains Martin Kotecki, packaging industry specialist at Baumer hhs.
Standing out on the shelf
Sonoco showcased its SquareCans at the exhibition. With their unusual rectangular format, they stand out at the point of sale. Printable lids produced with in-mould labelling technology (IML), such as a convenient hinge lid, offer additional printing space for brand messaging, or for extra content, such as recipes and health tips.
The virtually square shape of the rigid paperboard container also increases the efficiency and cost-effectiveness of logistics processes, as it optimally uses the available space during transport and in storage facilities. Sonoco produces the Hermetic SquareCan in a newly developed process that considerably increases the container's stability. In addition, a sealed-on aluminium membrane turns the new solution into an air- and gastight vault perfect for sensitive products like coffee, nuts or even baby food products, including powdered infant formula (PIF).
Integrated labelling performance
Embracing web compatibility and Ethernet control for interconnectivity, the new HERMA 500 label applicator, premiered at FachPack, is a highly integrated, high-performance applicator.
It marks a step forward as the packaging and labelling sector moves towards adopting smart factory principles. Its intelligent features satisfy the criteria imposed by Industry 4.0.
The successor to the HERMA 400 labeller offers compelling connectivity, intuitive operation, highly flexible integration options, and outstanding performance parameters. HERMA has delivered an innovation with the new machine's online functionality, as Martin Kühl, head of HERMA's Labelling Machines Division, explained: "In the future users will be able to parametrise, maintain, and operate the applicator as necessary by way of the Internet – quickly and simply. And the labeller itself responds to remote control as well, all of which further helps to reduce setup and maintenance times, and therefore costs."