Tim Sykes sat down with Olivier Lorge - ExxonMobil's global performance polyethylene market manager to discuss their sustainability strategy in detail.
TS: In your view, what is the current state of the plastics industry and how is it evolving?
OL: Plastic is still fundamentally strong and driven by strong organisation. A growing global middle class means that there's a greater need to preserve food, due to people moving from agricultural areas (where they have easier access to food) to towns – this is driving more and more packaging.
So, the global market is looking pretty strong and robust. Polyethylene in particular is growing at 3.5% a year – for a 100 million tonne market that's about 3.5 million tonnes of additional polyethylene. I would say the business side is going well.
But on the other side, there is more and more push for sustainability. We are working hard at making things better and easier to recycle and we are trying to develop solutions that introduce collected recycled material and put it back into packaging design.
As usual, there are a couple of steps. The first is reducing material - making things as thin as possible. Trying to reduce plastic use is always the best way to do this, reducing material by 50% is a good first step. We've been working on this for the last 20 years. 20 years ago, the thickness of heavy-duty bags made with our products was 200 microns – now it's 100 microns.
The second step is making packaging recyclable. In the past there were a lot of multi-material components, especially for some food packaging applications. This was good at the time because every layer was adding value, but now we must rethink this to make sure that these products are recyclable. Every end-use has its own challenges – food packaging might be the most complex because it needs to be food contact approved so that it doesn't impact the people using it. So, we tend to use virgin resin in food packaging. Compared to the past where we had a PE/PA or PE/PET structure which was not recyclable, now we're developing solutions with our performance PE polymers which provide the potential for 100% recyclability, are resistant to bag drop, keep the product fully inside, have multiple ways of introducing barriers, and are printable - which is very important for brand owners when they're marketing their products.
TS: On the subject of mono- and multimaterials, what are the key technological challenges that you face in moving to monomaterials?
OL: PET is a very good product; it has everything it needs in terms of stiffness and toughness. The problem is that it can be difficult to seal. PE is a very good sealant, but it isn't very stiff. So, what you have to do is work with the OEM to design specific resins, as we have done in some of our recent products to increase the stiffness of the PE film.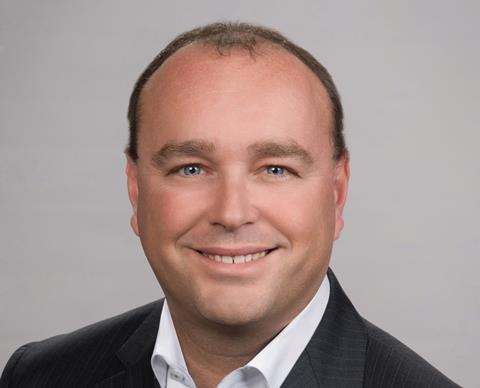 TS: Do you envisage having a closed loop so that specifically your polymers are being collected and then going into the secondary application?
OL: I think it needs to be an industry move. But we hope that people will use our products when they need high-performance polyethylene. We hope that we will be able to help converters and brand owners to design sustainable packaging from a performance side. We have enough capacity around the world to help and supply, so it's our goal now to go and develop that.
In terms of closed loop, we recently worked with Reifenhäuser to see how many times you can recycle the same material and learned that performance properties can be affected each time. Through this collaborative process, we developed heavy-duty bags based on our most recent innovative performance PE polymer (Exceed™ XP), as they have stringent application needs. We found that we could recycle the bag three times and even when 37% of this recycled material was included in the next batch of the bags, performance was maintained due to the use of our performance PE polymers.
It's very important to work with experts in processing and extrusion companies, like Reifenhäuser and Hosokawa Alpine, can help to ensure that you take care of your recyclable material, so that its quality doesn't deteriorate. Working together to find the right equipment and processing conditions is essential in order to be able to maximize the number of times we can recycle.
The idea here is to have a circular solution where you can reuse and recycle products in partnership with the converters, recyclers, and brand owners. We need to show the proof of concept to our brand owners to show that we can do it – then they can initiate the commercial side.
Some of these recycled material applications are commercial, such as our heavy-duty bags which we collect and reintroduce, but this needs to be bigger than us. The industry must work together to collect all bags, creating circular solutions.
TS: Back on the food packaging, I've been following the emergence of certain monomaterial trends over the last two years or so. We also run a competition called the Sustainability Awards, and we've seen a lot of monomaterial pouches coming through. Sometimes I find it quite hard to differentiate which of these are significant achievements or if everyone is advancing at the same pace. I'd like to ask you what differentiates what you've done from your competitors.
OL: One thing that is very important for brand owners – when you have a bag that drops for example, the liquid stays inside and doesn't leak. It's easy to do this with a product made of full PE. It's more difficult to make a structure that's resistant and passes the sustainability requirements of the brand owners. The challenge is to make a structure, for example a five-kilo bag of salt, that can be dropped five or ten times yet still function correctly afterwards. Alongside bag-drop resistance, brand owners also want these bags to be puncture resistant, because they may fall on the corner of a table during transportation, for example. Producers have to make sure their structures can resist this sort of treatment and retain their integrity.
So, people can design things which look nice, but brand owners aren't interested, because one leak could mean that they have to throw away tonnes of product. They like to test packaging made with our products when we visit them by jumping on them, throwing them from long distances – things like that.
That's our challenge – to create products out of recycled material that have the same integrity as ones made from PET or PA. In India for example, the move to PE-PE from PET and PE significantly improved packaging integrity across the value chain. I was visiting a brand owner in India, a company we started working with two years ago. They already had 75% of packaging for flour and salt move to PE-PE packaging. They've subsequently seen improvements in the failure rate.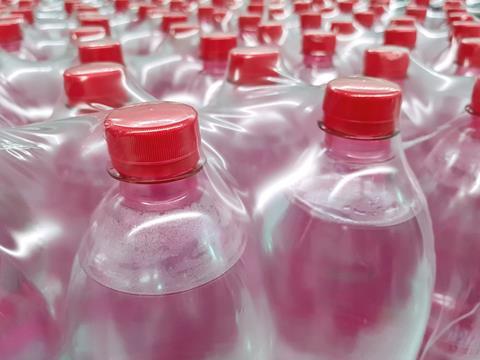 TS: The War on Plastic has been the big story over the past two years, but the climate crisis and carbon emissions are arguably more frightening. In your opinion, what is the importance of making sure that anything we do to address the plastic waste issue doesn't make carbon emissions go up?
OL: I fully agree with that. Our goal is to deliver solutions that enable our customers to reduce their emissions. For example, our packaging can help to prevent spoilage and wastage of meat – and the production of meat is a big CO2 emitter. So, it's a good thing if we can save 10% of meat via good, recyclable, reusable packaging.
TS: One organisation that we're particularly interested in at the moment is CEFLEX - a value chain collaboration with a very large proportion of the European flexible value chain involved in it. They work together to standardise and map out the requirements for a fully circular economy in flexible plastics and a viable end-market for PCR. What are your opinions on the scope and potential of value chain collaborations like this?
OL: One of the biggest challenges I see is aligning the recyclers, converters and the resin suppliers in order to develop an organizational structure that the brand owners will buy into, without adding unnecessary costs.
With a different way of thinking, we could buy the recycled material ourselves, incorporate our resin and then sell it to the converters. But this is probably not the most efficient process. Another way, which I think is more efficient in terms of CO2 emissions, is to do the dry blending directly at the converters.
I think the brand owners are ready to change the way they work, but we need to structure the industry to provide them with the products they need.
One of the industries in which we are already commercial with recycled material is shrink applications. In Germany, there is a good system of collecting bottles from supermarkets, where recyclers can also collect old shrink and stretch film. We're already working with converters to reuse this material, so that between 30-50% of our 'new' shrink film is made of this recycled material.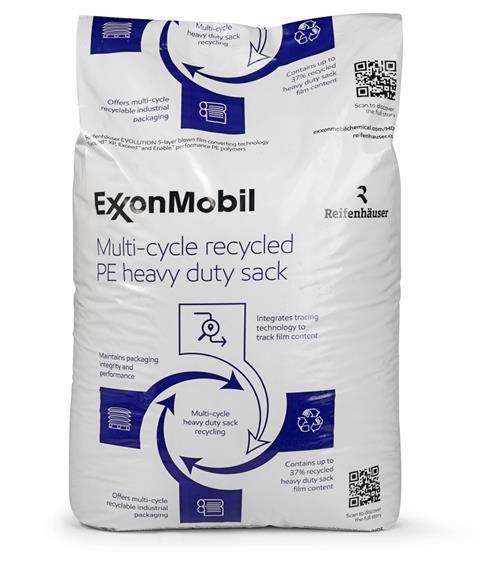 Another example, which we developed with W&H and the Armando Alvarez Group is a shrink film that includes 30% recycled material with 70% performance PE polymers. Then you get the holding force you need to bundle the product, you keep the stiffness to be able to carry it from your car to your house, and you keep the mechanical performance. This is an opportunity for us to really get organised, create a "shrink in shrink" recycle loop where we collect the old packaging to put in the 'new' packaging and so on.
It's very important for beverage companies to demonstrate that they are taking this seriously – they were the first ones to push us to develop a solution. And, with a leading plastic film and packaging producer like Armando Alvarez, you can design a good, commercially viable structure.
The optics though can be too good sometimes, so much so that people don't trust that the product is actually recycled. A story from the US – we were working with our customer to make stretch bags containing 50% recycled material and the final product was so glossy and perfect that the consumer couldn't believe that it was made from recycled material and didn't want to buy it.
The point here is to show we can do it, to say that there are three big companies that can produce significant volume for brand owners.