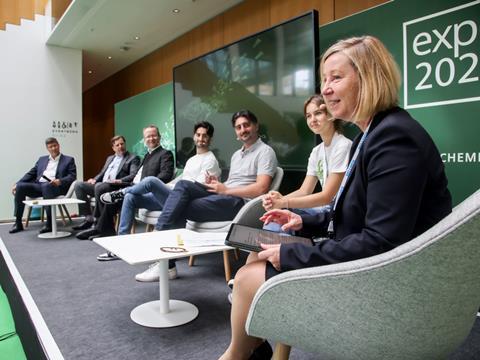 How are companies in the paper and fibre-based packaging sector powering their operations, what are the key drivers of innovation in the sector, and which emerging energy technologies should we be keeping an eye on? In this edition of 'In Conversation With…' we pose these questions to Professor Dr Helga Zollner-Croll, vice-chair of the ZELLCHEMING Association – an independent technical-scientifical platform for the pulp and paper industry.
In recent years, the ways in which companies involved in the paper and fibre-based industries power their operations from an energy point-of-view have been changing. Before looking to the present – and indeed the future – of this aspect of manufacturing, I think it would be helpful to look to the past. So, how have companies in this space historically powered their activities? What kinds of energy have been most prevalent until now?
In the past, paper mills, like almost all other production facilities, met their energy needs from fossil carriers such as coal, oil, and natural gas to produce steam for electricity. Pulp mills, on the other hand, have been able to rely on biomass as an energy source because black liquor is released during the wood pulping process.
It is produced when the lignin is separated from the pulp, which then forms the paper fibres. The combustion of the black liquor in the recovery boiler is used to generate electricity and process heat, which covers a significant part of the energy demand in pulp and paper production.
What are the key drivers of innovation in this sector? Why is the value chain working so hard to develop and implement new and innovative energy concepts?
There are several factors driving innovation in the paper and pulp-based industry: One is the desire to reduce costs, and not just since electricity and gas prices reached record levels last year. The industry is relying on renewable energy sources, i.e., wind and solar power, to remain competitive in terms of costs.
But a significant increase in environmental and sustainability awareness has also led companies to strive for CO2-neutral production. Added to this is increasing pressure from legislation, which, for example, stipulates that a certain proportion of energy must come from renewable sources. And, finally, consumers are demanding products that are sustainably produced and environmentally friendly.
Let's look to the present now. What are the key alternative energy sources that are currently gaining momentum in the sector?
Here, biomass would be mentioned as a renewable energy source, such as black liquor, bark, and sludge, but wind energy also plays a role. For example, the paper and board mill in Varel, Friesland, Germany, uses surplus wind power to generate steam for paper production - the concept is based on cooperation with an energy producer.
Solar energy is also on the rise: Heinzel Papier operates one of the largest photovoltaic plants in Austria, with a capacity of 2,600 kilowatt-peak, with a saving of 700 tons of CO2, and also has the Danzermühl hydropower plant with 45 gigawatt-hours. Besides the strong focus on renewable energy sources, this industry is also strong in finding and installing new equipment with higher energy efficiency.
Energy efficiency is and will continue to be a huge part of the industry's drive toward decarbonisation. I'd like to get your thoughts on this topic – what more could the value chain be doing to ensure that it is using energy in the most efficient way possible?
This includes conducting energy audits to identify areas where energy is being lost, as well as finding ways to make improvements. But it also includes switching to higher-quality technology to reduce energy consumption and costs. Employee engagement also plays a key role: the help of the workforce, for example when it comes to switching off lights or machines that are not currently being used, can make a big difference.
Looking ahead – are there any emerging or existing technologies that you think might grow in importance heading into the future?
There are several emerging and existing technologies that are likely to grow in importance in the paper and fibre-based industries as the sector continues to prioritize sustainability and decarbonization. These include biorefining - the conversion of biomass, like black liquor, into a range of products, including fuels, chemicals, and materials – as showcased by Stora Enso or UPM Leuna in Germany.
Deep geothermal energy is another promising option for some locations, underlined by the current project at the Kabel Premium Pulp & Paper mill in Hagen, Germany. Besides, digitalization will play its role, using artificial intelligence, machine learning, and the Internet of Things to optimize processes and reduce waste. The same is true for energy storge as batteries and fuel cells have the potential to help companies manage fluctuations in energy supply and demand.
During ZELLCHEMING-Expo 2023, held at RMCC in Wiesbaden, Germany, June 20 to 22, Professor Dr Helga Zollner-Croll, will be moderating the session 'Innovative Energy Concepts in the paper and fibre-based industry'.
For more information: https://bit.ly/3ZzXQZD