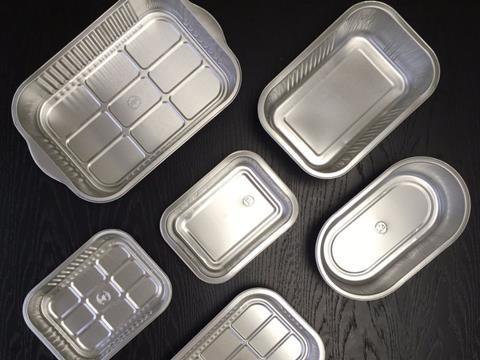 Brumotactillophobia is the fear of different foods touching on the same plate, viewed by food psychologists as a hangover from childhood fussy eating. Here, Andrew Wilkinson, senior UK sales .manager at European packaging manufacturer, Advanta, explains why a fussy consumer is beneficial to food manufacturers, as it drives the food packaging innovations of the future.
Compartmentalisation
Compartmental foil trays allow the consumer to cook runny components separately, maintaining the flavour and appearance of the end meal. It's not just the brumotactillophobics that benefit from components being kept apart. Flavours, textures and colours kept separate during the cooking process make the finished meal more appealing to everyone.
Equally, placing sauce sachets within a non-compartmental tray offers similar flexibility and autonomy to the consumer, allowing for sauce to be added part way through the cooking process.
Sustainability
In January 2018, the British prime minister, Theresa May, announced her 25 year plan to eradicate unnecessary plastic waste and introduce plastic-free aisles to supermarkets. She called plastic waste "one of the great environmental scourges of our time," adding that, "In the UK alone, the amount of single-use plastic wasted every year would fill 1,000 Royal Albert Halls".
Food developers need to get ahead of this movement, realising more and more consumers are looking to reduce their plastic waste and look to other material alternatives. Aluminium put in the consumer's recycling bin can go on to be cleaned, melted and reformed into more aluminium products. This means it doesn't go to land fill or end up in the world's oceans.
Wrinkled or smooth?
Assuming you're on board the aluminium train, seeing the benefits this material brings to the environment, then you will also need to assess whether your product is more suited to a wrinkled or smooth-wall tray. While both types are eco-friendly, microwavable and freezable, the wrinkled-wall tray offers a lower price point and a more traditional foil tray feel.
For a sophisticated look and stronger capabilities, smooth-wall foil containers offer a heavy-duty construction, perfect for ready meals, meat joints and barbecue food. These can be hermetically heat sealed with standard film for a leak-proof finish. In addition, modified atmosphere packaging (MAP) can also be used to extend shelf life. This packaging does not soften at high temperatures, meaning the consumer avoids any mess.
Stand out
The Waitrose Food and Drink Report 2017 highlights changes in consumer behaviour. With more convenience stores and longer opening hours, we are seeing more shoppers visiting the supermarket on a daily basis, often after work. This new trend has been coined "as and when shopping". After their busy day at work, it's even more important for consumers that the products they buy stand out as convenient, nutritious and visually appealing.
While silver foil trays are classic, shiny and appealing in their simplicity, we may see an emergence of more vibrant options to attract the after-work shopper. Aluminium containers can be as unique as you want; any colour, branding or embossing is possible. Think bigger, bolder ideas if you want your product to stand out on the shelves. Lacquered foil trays create luxury shelf appeal, positioning your product as the premium option.
Brumotactillophobia may not characterise your general target market, but it does represent a wider issue of meeting ever-changing customer needs on a practical, sustainable and aesthetic level. Food manufacturers need to stay ahead of these trends if they are to remain competitive.
More info: