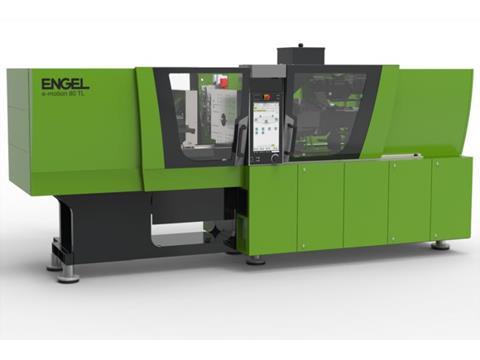 'Experience the smart factory' will be ENGEL's slogan for Plast Eurasia 2017, which takes place in Istanbul, Turkey, from December 6th to 9th.
In Hall 12 (stand 1216), the injection moulding machine manufacturer and system solutions provider with headquarters in Austria will demonstrate the opportunities that digitalisation and networking present for the plastics processing industry, and how these can be applied to maximum effect with inject 4.0.
inject 4.0 is ENGEL's answer to the challenges of the fourth industrial revolution. The aim is to realise the smart factory, in which production processes continually self-optimise through the networking of production systems; the systematic usage of machine, process and production data; and the deployment of intelligent assistance systems. In this way processing firms can increase the productivity and quality of their production operations while responding to demands – which are changing ever more quickly – with maximum flexibility.
At a very early stage, ENGEL focused on the trend towards networking and digitalising production processes by developing an integrated digitalisation strategy for its own production as well as its customers. "Many of our inject 4.0 products and solutions have already been successfully deployed at customer sites for many years," reports Abdulkadir Topucar, Managing Director of ENGEL Enjeksiyon Makineleri in Istanbul. "At the same time, we are consistently working to develop the range. We are inviting trade fair visitors to experience both established and new products and solutions at our stand, and try them out first hand." In particular, it is the modularity of ENGEL's inject 4.0 approach that makes it extremely easy for plastics processors to start working towards the smart factory step by step. Even individual stand-alone solutions can add great value. Compensating for process fluctuations before rejects are produced As integration and automation make injection moulding processes ever more complex, managing and controlling them also needs to be simpler and more intuitive. Self-adapting, intelligent assistance systems make a major contribution towards this objective as they boost process capability and quality without requiring operators to acquire special skills. To clearly demonstrate the way these assistance systems work, ENGEL will be producing inject 4.0 logos at its stand over the four days of the fair using an all-electric and tie-bar-less ENGEL e motion 80 TL injection moulding machine. Fluctuating process conditions will be simulated in the machine's CC300 control unit, giving trade fair visitors the opportunity to track the automatic readjustment by the intelligent assistance systems live on the machine's display. While iQ weight control keeps the injected melt volume consistent throughout the injection moulding process, iQ clamp control determines mould breathing in order to set the correct clamping force for good mould venting. This means that fluctuations in ambient conditions and raw materials are automatically detected and compensated for in a single shot, before rejects can be produced. Efficient, precise and space-saving The design of the e-motion 80 TL also meets the strictest efficiency and precision requirements. The model range combines the benefits of ENGEL tie-bar-less technology, such as fast tooling processes, efficient automation solutions and compact production cells with all-electric drive technology. Thanks to these qualities, the e motion 80 TL can be used, for example, to manufacture precision parts and premium optical components in the electronics industry. At Plast Eurasia, an integrated e-pic Z robot will remove the parts from the mould. The innovative kinematic system of the pick-and-place robot in the ENGEL product portfolio combines linear movements with a swivel arm, and thus requires minimal space. The swivel arm comprises a tailor-made, lightweight, thermoplastic composite material which also raises energy efficiency and dynamism. Managing multi-component processes with LSR ENGEL will also underline the efficiency potential of its tie-bar-less technology with its second trade fair exhibit. Over the four days of the event, ENGEL will use a victory 200H/200L/160 combi injection moulding machine with integrated viper 40 linear robot to produce two-component pressure accumulator membranes used in pressure compensation containers. In a single workstep, the machine will process PBT and LSR simultaneously in a two-component mould. The integrated injection process in this application makes it possible to bond thermoplastics and silicone in stable layers.
Because the tie-bar-less clamping unit fully uses the mould mounting platen to the edge, the bulky two-component mould for the pressure accumulator membranes can be installed on a relatively compact 160-ton machine, thus keeping down both the investment costs and the operating expenses. Moreover, the linear robot can access the cavities directly from the side, without having to negotiate obstacles, and operate safely in that area. The third efficiency factor is the very high level of process consistency ensured by the tie-bar-less design of the clamping unit. The patented force divider enables the moving mould mounting platen to follow the mould in a precisely parallel manner while clamping force is building up and ensures that the clamping force is evenly distributed across the platen. This way, both the outer and inner cavities are kept closed with exactly the same force, which reduces mould wear and raises product quality. "To manufacture high-tech products of liquid silicone in a cost-effective way, you need burr-free, waste-free, fully automated processing of LSR with no reworking required," says Topucar. Keeping an eye on production The two injection moulding machines at the ENGEL trade fair stand are linked to each other. Machine states and process data can be tracked in real time using a central computer. In this way, ENGEL will showcase further products from its inject 4.0 range at the Istanbul fair. For example, e-connect.24 enables remote maintenance of injection moulding machines and production cells, even at distant production locations. Qualified ENGEL service engineers can be contacted directly 24 hours a day, seven days a week. As soon as they receive a service request, they use a secure remote connection to start troubleshooting and providing specific online support. In many cases, the problem can be resolved directly via the internet, thus saving the user a time-consuming and expensive on-site call by a service engineer while increasing the production line's availability.
One special highlight of the ENGEL trade fair stand will be the presentation of the new e connect customer portal, the future platform for communication between ENGEL and its customers. The fully revised version supports the optimum use of inject 4.0 products while providing an overview of the machine park, the processing status of service and support orders and the prices and availability of spare parts – any time and anywhere. "We are offering visitors to the trade fair an exclusive preview of the amazingly clear design, intuitive navigation and the new features of our customer portal," says Abdulkadir Topucar in the run-up to Plast Eurasia. As of April 2018, e-connect will be available in Turkey.
ENGEL at Plast Eurasia 2017: Hall 12, stand 1216
More info: