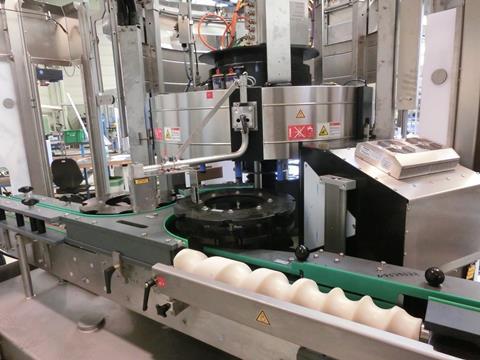 In 2004, the newest glass plant with its own bottling operation opened in Elton, Cheshire to the delight of many brand owners in the United Kingdom. The company now trades under the "Encirc 360" banner.
Encirc is constantly looking at ways of offering a more sustainable approach to both glass bottle manufacturing and in its bottling operations. As a contract packer for many of the leading global brands of wines, beers, ciders and soft drinks Encirc can offer clients virtually any primary packaging format that brand owners require. In order to remain at the 'top of their game' they are constantly looking at ways to enhance their offering and have a very positive attitude to re-investment in their bottling lines.
A recent contract enquiry required a facility on their Krones Multimodul 60 platform labeller, for optical detection of orientation marks for their 60,000 bottles per hour (bph) machine. The new Krones optical spotting solution, retrofitted to the Multimodul, will still enable this production speed to be attained, whilst maintaining the high-speed labelling capabilities.
The new system gives Encirc far greater flexibility, as they can now offer clients any 'bottle/label combination', which they could not do before. Andy Flynn, New Product Development Engineer at Encirc said, "This investment has been very much customer driven, our client wanted something different, we said 'yes' and got in touch with Krones UK straight away who quickly made the retrofit for us. The result has been such a success that we are planning to do the same on the line beside this labeller. It was a very complex retrofit, but the Krones team only took a few days and the labeller was running at full speed straight away, a job well done."
Andy continued, "Another really helpful part of this retrofit is the new operating screen that offers so much more for the line operators. It has a full menu of any bottle that has been through the labeller before, making set up between changeovers much quicker and more accurate. The screen highlights any issues with servos for example, so spotting any potential faults really before they happen, something that is very important to us as downtime during a production is of course essentially lost money, and this really helps to get over that issue."
Mark Heath, Krones UK Sales Director said, "Our colleagues in Germany are always looking at ways to enhance the installed base of our machines globally. These enhancements can greatly extend the useful life of a machine without the customer having to buy a completely new unit. These retrofits can be undertaken during routine maintenance, the difference being that when the line restarts, the client has many more options. With the face of retail changing so fast, brand owners and contract packers can be assured that it does not need to be a huge investment to keep them at the forefront as their marketing departments require changes to pack formats and bottle dress. At the two major shows in Germany, interpack in May and Drinktec in September, Krones will be demonstrating many of these great new ideas."
Mark concluded, "Encirc has clearly been one of the flagship installations for Krones UK in recent times, we have been able to modify the Krones equipment on several occasions as Encirc's customer base change their requirements. Back in 2004 when the plant opened, flexibility was always the key and this retrofit to the Krones Multimodule labeller is a good case in point of a customer and supplier working efficiently together."
More info: