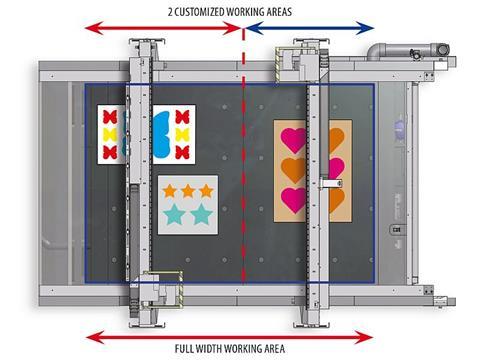 At Fespa, Elitron will present Klick, the company's newest, innovative solution, developed specifically to automate the pre-printing preparation process.
Klick can be interfaced with all printers to speed up the print process, reduce ink wastage, keep the printing bed cleaner, and allow the reuse of otherwise left-over materials. This system automatically recognises the position of material/s and objects freely placed anywhere on the print bed and manages the workflow accordingly. Visitors can see Klick at Fespa to learn how to increase productivity, and reduced pre-print costs.
The NEW Kombo SDC+ 21.32 cutting system on display at Fespa offers a vacuum working area of 2100 x 3200 mm and a multi-tool cutting head, engineered to integrate and automate the production workflow with super wide format digital printers, to cut both roll materials up to 3.2 m and a multitude of rigid materials. Ideal for digitally printed fabrics and all visual communication media. The Kombo range personifies flexibility, so that our customers have a competitive advantage in today's dynamic market.
Also on show will be Spark 19.16, a new compact conveyor cutting system, with a vacuum working area of 1900 x 1600 mm, will be working in a production line to simulate a realistic production workflow.
Elitron says it was was the first to offer two cutting heads and that the technology can make a difference with a variable vacuum working area of 3150 x 2050 mm. Thanks to Custom Cutting, the working area can be divided in length (3150 mm) into 2 customised independent areas, each with it's own multi-tool cutting head. Maximum flexibility and real "2 in 1" technology to double production.
Find Elitron in Hall A5 – Stand H50 at Fespa.