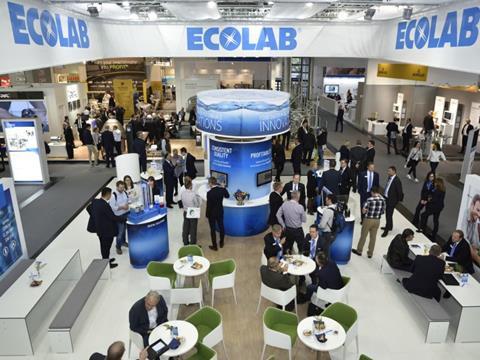 Food production is becoming increasingly complex due to new product and process requirements, increasing automation and enhanced demand for safe food.
Food and beverage companies are faced with the daily challenge of supplying this need through efficient, socially responsible operations.
At the same time, water scarcity is becoming more than a hypothetical risk for companies around the world — it is a constraint to growth as demand for goods and services is on the rise and available resources dwindle. At drinktec 2017, Ecolab highlighted its innovative food safety and water management solutions.
Delivering safe food to consumers
At drinktec, Ecolab highlighted several new solutions that help customers keep food safe, including its new metering pump series. The advantages of the new dosing pumps include precise adjustable metering capacity, almost pulsation-free injection and adjustable suction time for viscous products. With the built-in Ecolab product database and self-knowledge of material composition, parameters and performance, the pump intelligence is able to determine the optimal maintenance interval. The optional Bluetooth extension module, in combination with the Ecolab smartphone software EcoAPP, provides a process overview and safe guided empty container change with barcode scan to reduce the risk of wrong material combination and chemical use.
Another solution highlighted was ScufexTM Cold, an innovative scuff-masking solution for bottlers in the beverage industry. It covers up scuff marks that accumulate on returnable bottles over time and contains no greasy residue. By masking the scuff, the bottles are not subject to the 4-5mm scuff limits imposed by beverage manufacturers. Scufex Cold is applied to returnable glass bottles filled in cold environments where condensation interferes with traditional solutions.
An easier, safer alternative to manual cleaning is the TrackCARE™ Airveyor Cleaner Program. It is designed to help improve product quality and productivity with a safe, straightforward solution for keeping Polyethylene Terephthalate (PET) bottle airveyors clean and efficient. TrackCARE is a shuttle that cleans and lubricates the contact points between airveyors and PET bottles, preventing bottle jams and minimizing downtime.
Ecolab also introduced the next-generation membrane cleaning program for dairy manufacturers producing premium quality products. Ultrasil™ MembraneCARE 2.0 is a proprietary Cleaning in Place (CIP) membrane cleaning program that expertly combines alkaline, acid and patent-pending enzyme cleaners, all of which are biodegradable and minimize environmental impact. Compared to current industry practices, this next-generation program helps to reduce the dependence on surfactants, increase membrane flux, reduce CIP cycle times, and lower water usage and energy consumption.
Reduce, reuse and recycle water
Businesses around the world are increasingly aware of the impact of water on their business. More and more companies are rethinking operations to be more water-efficient and setting ambitious water goals. At drinktec, Nalco Water, an Ecolab company, demonstrated how they partner with food and beverage processing customers to minimize water, maximize performance and optimize cost. "While water is essential to businesses, its demand is quickly outpacing supply in several areas with the expected global differential to be 40 percent by 2030", said Dr. Geoff Townsend, Ecolab industry fellow and water stewardship expert. "A holistic water management approach can help businesses across diverse markets and especially in the beverage and dairy industry, better manage the water they use – from basic everyday production demands to complex process challenges."
Showcased during drinktec, Ecolab's 3D TRASAR™ technology combines chemistry, remote services and sophisticated monitoring and control to improve a range of industrial operations. For example, the 3D TRASAR™ technology for CIP monitors every detail of every CIP wash in the plant. It verifies standard operating procedures, enabling users to know at any time whether they are washing correctly and optimally, using the least amount of time, chemistry, energy and water necessary.
For businesses that want to understand the impact of water scarcity on their operations and quantify those risks in financial terms, Ecolab's Water Risk Monetizer helps provide actionable information, allowing for more sustainable business decisions. As the industry's first financial modeling tool, the Water Risk Monetizer provides a risk-adjusted price for incoming and outgoing water that represents the full value of water to a business based on local level demands and scarcity. It is available at no cost to businesses throughout the world and enables them to factor current and future water risks into decision making that supports business growth and helps ensure the availability of this limited natural resource for future generations.
More info: