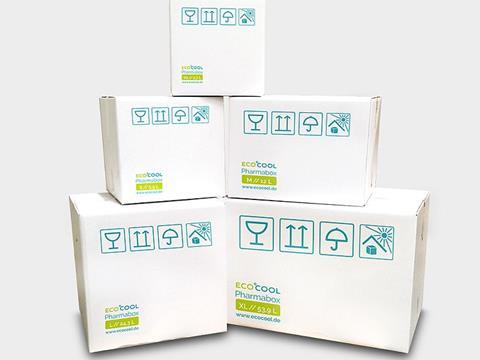 The manufacture of packaging for temperature-sensitive goods is a technically demanding field, and one in which Ecocool GmbH has become highly specialised.
At this year's Fachpack in Nuremberg, the Bremerhaven-based manufacturer will be showcasing its extensive product portfolio focusing on the core markets of food and pharmaceuticals.
Located at Hall 9, Stand 237, the trade fair booth will focus on two areas. The first is refrigerated packaging for the shipping of online food orders – a sector that is currently booming. Here, the company will be presenting the Coolmailer and the new Smartcooler, two products that Ecocool has designed for online retailers operating in or seeking to enter the sector. Our second focus will be on pharmaceutical boxes for the GDP-compliant distribution of medicines.
"Among our solutions for this sector is a logistics concept – developed in collaboration with other companies – for the safe and economical distribution of temperature-sensitive pharmaceuticals during the final leg of the delivery process," explains Dr Florian Siedenburg, Managing Director of Ecocool GmbH. This project for Germany's online pharmacy sector is to be presented in more detail at the trade fair. "To create a sound technological basis for these supply chain concepts, we conduct extensive climate chamber testing as well as real transportation. We then analyse with the aid of data collection instruments." These temperature data loggers are not only used by Ecocool, but also actively distributed. At this year's Fachpack, the Bremerhaven-based specialist for cooling packaging will be presenting the product ranges of its partners SWiTrace and IMEC. These will be complemented by Ecocool's own range of thermal covers. These are designed to protect temperature-sensitive goods during shipping, especially by air.
The innovative Smartcooler refrigerated packaging, which Ecocool launched in June 2018, is set to be among this year's trade fair highlights. Made of a synthetic fleece and fitted with cooling elements, the Smartcooler insulating bag facilitates excellent temperature control. It is also sustainable, with 80 percent of the packaging consisting of recycled PET bottles. The Smartcooler's core consists of an insulating fleece made of recycled materials. This is surrounded by a special, thin PE envelope to turn it into a bag. The system is closed by means of the sticker provided. A more inexpensive version of the Smartcooler is Ecocool's Coolmailer, a thermal envelope already well-established on the market.
Ecocool's pharmaceutical boxes for the 2 – 8°C temperature range offer GDP-compliant, pre-qualified cooling packaging suitable for the shipping of high-quality refrigerated pharmaceutical products. The boxes are able to keep products refrigerated for 72 – 96 hours. They are available in five standard sizes ranging from 2.5 – 53 litres. The low-cost standard version is based on a specific combination of water-based cooling elements. Where a higher cooling performance or longer cooling periods are required, the company can offer a version equipped with +5°C PCM cooling elements.
Ecocool will be using Fachpack not only to showcase its refrigerated packaging products, but also to exhibit its range of temperature data loggers. These can be inserted with the packaged goods and serve to reliably and continually monitor and record temperature values during shipment. These data loggers are the only way of verifiably recording whether, during their transport and storage, temperature-sensitive products were exposed to temperatures that could have potentially negative effects on their quality.