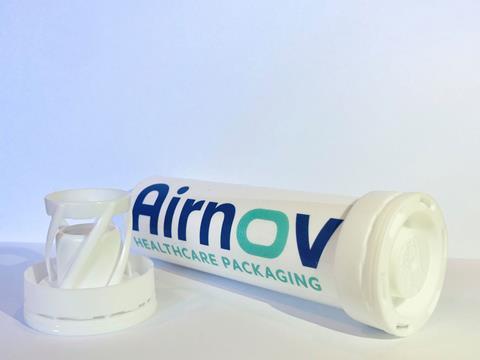 Controlled atmosphere packaging experts Airnov is set to unveil a new 27mm desiccant stopper with coil for healthcare applications, which it says offers easy opening to patients and moisture protection of products, as well as reportedly being made from renewable materials.
The company says that patients commonly cite difficulty opening cylindrical tubes of tablets or medication, thus ease of opening was prioritised as one of the key features of the new desiccant stopper.
Airnov adds that the stopper uses fewer raw materials, making it a lightweight option for packaging pharmaceutical products.
In addition, the stopper is apparently comprised of polymers from renewable-focused suppliers, reducing its carbon footprint. The company claims this is part of its commitment to bring more sustainable solutions to the pharmaceutical and personal care packaging markets.
According to Stéphane Rault, global product manager at Airnov: "This new stopper gives advantages to improve the easy opening of packaging by patients and shows how Airnov continues to engage more in the development of sustainable solutions, which is helping to reduce our impact on the planet.
"Most importantly, this product represents an answer to our customers' needs and has been developed based on feedback we have received from them."
The company adds that the lightweight, sustainable, and practical features of the desiccant stopper do not compromise its core function: protecting moisture-sensitive nutraceutical, probiotic, and pharmaceutical products inside tube-style packaging.
Earlier this year, Airnov released OXYNOV, a new barrier bottle for oxygen-sensitive pharmaceutical, nutraceutical, and probiotic products, made using ethylene vinyl alcohol (EVOH). Another recent innovation by the company includes its Aroma-Can range, containers that are injection moulded with scented polymer resins that release over time to counter odours that may discourage customers from taking nutraceutical products as prescribed.
Airnov's new 27mm desiccant stopper range can be produced in a variety of formats and colours to suit the specific needs of Airnov's clients.
The stopper will be unveiled at Pharmapack 2021, running online from September 27th to October 22nd, and in-person at the Paris Expo on the 13th and 14th of October.
The stopper will be available to customers worldwide from Q4 2021.