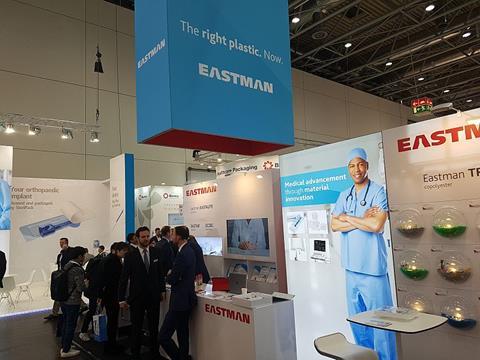 Eastman is getting ready to put its medical-grade copolyester technology, testing and service approach center stage at Pharmapack 2019. New for this year's show is the addition of its customer facing state-of-the-art European Technology Center.
The opening of its new technology center Europe promises customers access to 75 years of experience and expertise in medical polymers used for the development of protective, cost-effective packaging for the pharmaceutical and devices market. Based in Belgium at Ghent University's technology park, the center works with customers from design conception to implementation. It also helps customers address production challenges as quickly as possible.
"Creating and maintaining competitive advantage is key in today's market," explains Michael Burkardt, Eastman New Business Development Manager. "The bespoke testing facilities and expertise is designed to help customers respond with greater confidence, speed and agility to increasing regulatory pressures and product performance expectations."
He continues, "Customers looking for cost effective performance packaging for fluids, such as IV, or container type packaging, and Rigid Medical Packaging (RMP), will benefit from talking to Eastman. The center is proof of our commitment to a 'total solution' approach which goes beyond material supply. It ensures each aspect of product development from design to compliant and commercially viable implementation is well-supported."
Ludovic Gardet, Eastman Technology, adds, "We offer the right plastic now to enable pharmaceutical as well as device customers to succeed today. We are also investing in more sustainable business solutions that will help businesses perform tomorrow. Innovation lies at the heart of our offering."
At Pharmapack Eastman will be showcasing its latest regulatory compliant copolyesters including the highly durable Eastman Tritan™ copolyester and ever reliable Eastar™ copolyester range. The team will be available to discuss how Eastman's medical grade copolyesters could be the right plastic for your next medical device or packaging project.
Meet the Eastman team on Stand C18, Pharmapack, Paris.