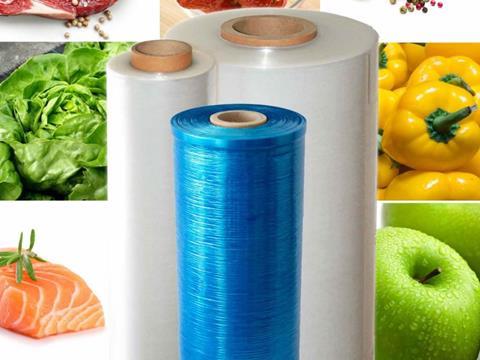 The stretch film innovation of DUO PLAST AG for load unit security in the food industry has been refined. Several variants were added to the range of DUO FOOD CONTACT film, which was especially developed for direct food contact.
Probably as one of the first film manufactures in Europe, DUO PLAST has received a food regulatory conformity in 2011 for a stretch film according to EU Regulation 10/2011. Furthermore, DUO FOOD CONTACT film is produced under strict hygiene regulations within the framework of global standard BRC / IoP.
DUO PLAST is now presenting additional versions of the DUO FOOD CONTACT stretchfilm. In additional to the existing thickness 15 μm DUO FOOD CONTACT is now available in 12, 17, 20 and 23 μm. Furthermore, the stretch film producer DUO PLAST offers the FOOD CONTACT film also with strong cling or as a patented DDK version.
DUO FOOD CONTACT film is available in standard transparent version. On behalf of customer requirements, DUO FOOD CONTACT can be dyed as blue-translucent execution, which offers further packaging solution advantages to the food industry. Immediately appearing dying prevents the "slip through" of stretch film residues in the food.
The certified film offers entirely new possibilities for food industry. The DUO FOOD CONTACT was developed for usage as primary packaging. Due to this additional benefit it reduces or even replaces the previous primary packaging.
DUO FOOD CONTACT is a blown stretch film with the outstanding technical properties, such as extreme elongation and tear strength. Significant material savings can be achieved by the application of thinner qualities of stretchfilm. Excellent adhesion properties and restraining forces increase the transport security considerably.
More info: