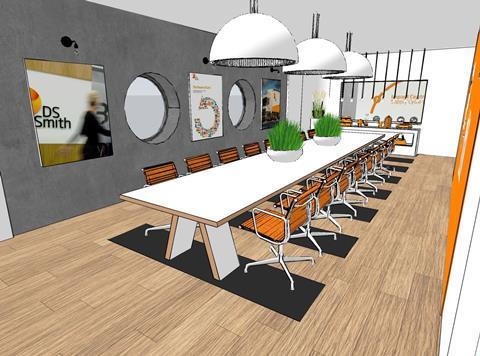 DS Smith plans to make its site in Tilburg the largest centre for the development of industrial packaging in the Benelux.
Serving primarily the automotive and chemical industries, it will consist of new facilities and a state-of-the-art PackRight Centre and is part of an extensive investment programme for the European Packaging Strategist.
A new logistics warehouse is already in place, as well as an extensive range of over-sized testing equipment and automated robots to produce DS Smith's unique Octabin Bulk Containers. In addition, work has begun on the XXL PackRight Centre and there is plans for an advanced XXL converting machine to arrive in 2018.
The PackRight Centre, which will open by the end of the year, will be at the heart of the site and will afford DS Smith the opportunity to better service its customers through true collaborative working.
Sieger Korting, PackRight Centre Manager, explains: "The Tilburg site is known for its innovation, technical knowledge and industry expertise. By extending the facilities and opening a PackRight Centre on site, we will build on this strength and use the proven PackRight approach to become even more customer-focussed and collaborative. We will be able to invite existing and potential customers to be more hands on with the packaging process and explore business opportunities across the whole supply cycle. This will improve results for our customers and mark a significant step change for us."
Pieter Stoevelaar, General Manager Heavy Duty, concludes: "The DS Smith PackRight Centres are hubs of expertise and creativity, where we are focused on delivering concrete projects in short to medium term. In a dynamic environment, we invite our customers for interactive sessions and workshops and our skilled people deploy the PackRight creative tools, to achieve tangible results. "The objective is to integrate deep insight from our customers' businesses to design advanced solutions that will improve performance in terms of lower cost, more sales or management of risk. DS Smith currently has 28 PackRight Centres in different locations across Europe and is planning to open 15 more in the coming year."
More info: