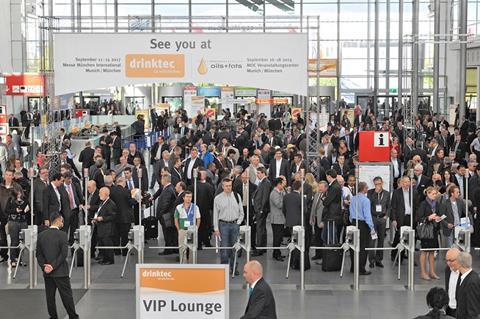 Leading glass manufacturer Beatson Clark will be showcasing its products and services to the world at Drinktec in Munich in September.
The world's biggest trade fair for the beverage and liquid food industry takes place every four years and will be staged at Messe Munich from 11th to 15th September 2017.
Around 1,600 exhibitors are expected to exhibit and more than 70,000 trade visitors from all over the world will be coming to the event – two-thirds of them from outside Germany.
Beatson Clark, which makes glass bottles and jars for food, soft drinks, beers, spirits and pharmaceuticals, will be launching its new embossed 500ml skittle beer bottle and 'apothecary' style spirit bottle range to the European market.
They will also be promoting the speciality printed crowns which they supply for a complete branded packaging service.
"These big international trade shows for the food and drink industry are a really important opportunity for us to get out there and promote our products and services," said Charlotte Taylor, Marketing Manager at Beatson Clark, who will be attending the event with Export Manager Jan-Willem Ridt.
"It's not just about exhibiting our products – it's also a chance to talk to potential customers about how our flexible services can benefit their business.
"Examples could be a bespoke glass design, a cost-effective way to achieve an embossed bottle or a low-volume production run. We currently export 20% of our products internationally and the growing craft brewing and distilling markets worldwide are a particularly good fit for our flexible and creative approach."
Exhibitors at Drinktec represent the entire process chain, from manufacture, filling and packaging to sales and marketing.The event covers the entire beverage and liquid food industry, including soft drinks, brewing, mineral water, dairy, wine, spirits.
Beatson Clark can be found on stand A1-210 at Drinktec.
More info: