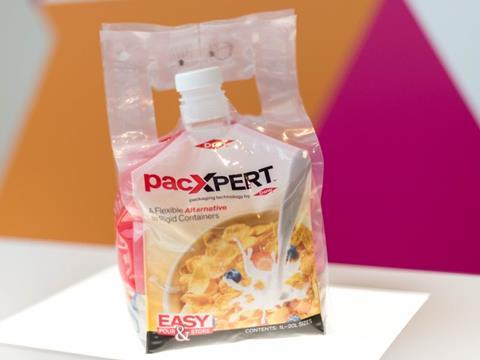 As one of the leading materials solutions providers to the packaging industry, the Packaging & Specialty Plastics business of The Dow Chemical Company (NYSE: DOW) has announced that Easy Packaging Solutions, a leading converter in the French packaging market, is the newest licensee of Dow's PacXpert™ Packaging Technology.
As a licensee, Easy Packaging Solutions (EPS) will be authorized to manufacture and sell the PacXpert™ Packaging Technology across Southern Europe (France, Italy, Spain) as well as Belgium. Joining the ranks of licensees Leygatech in the UK and O Kleiner in the DACH and Nordic regions, the latest partnership with EPS will take PacXpert™ to the next level in Europe.
Easy Packaging Solutions and Dow have long been industry partners and the K2016 Show became the catalyst for this renewed partnership. They are a company dedicated to the value chain approach much like Dow. This shared mindset further enabled EPS to bring their different approach to the table, which is inspired by the ecosystem to put packs on shelves coupled with the know-how to execute quickly.
"It has been very positive working with a packaging converter who is truly committed to and understands the value chain approach to driving packaging innovations. We knew that with Easy Packaging Solutions' deep understanding of retailers' needs and a rich experience in the beverage industry we had an ideal partner who could take PacXpertTM to the next level," comments Fabrice Digonnet, Dow's Packaging & Specialty Plastics New Business Development Leader EMEA. "Due to their vision and dedication, we were able to turn this around in six months, which is very impressive and will help the European industry transition to flexible packaging faster," concludes Digonnet.
"Dow had exactly what we have been looking for in PacXpertTM. It has been a great collaborative project and we are very much looking forward to the many fruitful outcomes that will result from this," said Bruno Sivieude, Easy Packaging Solutions CEO. As a result of Dow's commitment to delivering innovative and sustainable packaging solutions and Easy Packaging Solutions' speed of execution, the first PacXpert™ Technology packages are expected to be on the shelves in Southern Europe and Belgium by the end of 2017.
Licensed globally by Dow through an agreement with Smart Bottle, Inc., Dow also sub-licenses this exciting technology to select converters who may then leverage the technology to promote differentiated flexible packaging solutions to the marketplace. Dow's PacXpert™ Packaging Technology is an innovative technology that enables the transition from larger traditional rigid containers to flexible packaging. The flexible packaging design offers sustainability benefits and convenience, such as being durable, lightweight and cost effective. While flexible, the cube-shaped package is shelf stable and can stand equally well upright or on its side. The lightweight packaging design offers a fitment closure and integrated ergonomic dual handles, enabling precision pouring with no glugging, easy reclosing and convenient carrying.
More info: