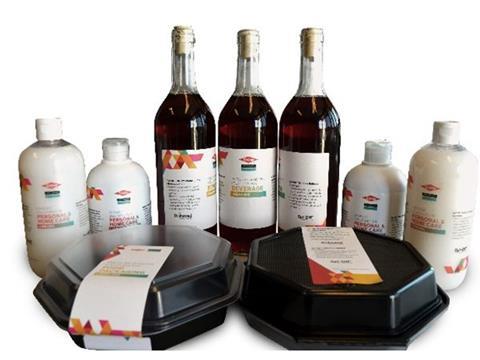 Dow Adhesives and Dow Performance Silicones (heritage Dow Corning), two global business units of DowDupont Materials Science Division, exhibit together at Labelexpo Europe 2017 in Hall 7 at Booth 7E35.
By showcasing its complementary portfolio of differentiated and high-value adhesives and release coatings solutions, based on Dow's acrylic and heritage Dow Corning's silicone technology platforms, the company addresses major trends in the pressure sensitive industry.
With the theme 'Innovation Inspired by You', Dow wants to exemplify its collaborative approach to drive meaningful innovations for the pressure sensitive industry. Meike Wesseling, EMEAI Marketing Manager Pressure Sensitive Materials, explains: "We are devotedly working with the whole value chain to fulfill the industry's pressing needs. The solutions we are bringing at LabelExpo help customers take advantage of emerging trends, while accelerating innovation and time-to-market." "We are offering customers the opportunity to serve attractive industry segments and benefit from cost and sustainability advantages," comments Alberto Lora Lamia, Marketing Manager Acrylic Adhesives. "By combining our core strengths in R&D, industry expertise and worldwide geographic reach, our customers gain a preferential access to a reliable, full-service supplier that can help solve their toughest challenges."
Innovation opening up access to new applications and industry segments Technology advancements across several self-adhesive sectors are driving demand for pressure sensitive solutions suitable for challenging paper and film label applications and industrial aftermarket screen protection. To help customers address this trend, Dow is presenting at LabelExpo:
- The latest additions to the Dow ROBOND™ acrylic pressure-sensitive adhesives portfolio suitable for challenging labelling applications such as beverage, personal care or pharma: ROBOND™ PS-7860 high solids acrylic adhesive polymer and ROBOND™ PS-7890 ready-tocoat adhesive for gravure coating of multipurpose paper labels, as well as ROBOND™ PS-7735 wide temperature range label adhesive, the latter being introduced globally at LabelExpo 2017. These solutions offer: excellent adhesion on a broad variety of substrates; superior water whitening resistance; high transparency, suitable for a "no label" look; and improved processing technology and application speed.
- Silicone pressure sensitive adhesives, such as Dow Corning® 7657 Adhesive, Dow Corning® 7667 Adhesive, Dow Corning® 7645 Adhesive, and Dow Corning® 7647 Adhesive, for superior optical clear adhesion properties for touch screens and other electronic devices. Innovation driven by cost control Label stock producers and converters operate in an increasingly competitive market, facing material and processing cost pressure; a mature market in which value added products bring a competitive edge. Addressing this trend, Dow is showcasing at LabelExpo:
- High performance release coatings solutions, such as Syl-Off® SL 181 Coating and Syl-Off® SL 585 Coating, using flat release profile technologies to address the growing demand for ever increasing label dispensing speeds. - Syl-Off® Advantage Series cross-linkers, such as Syl-Off® SL 11 and Syl-Off® SL 12, offering manufacturers an opportunity to reduce platinum dependency, bringing cost benefits without impacting performance. - The Syl-Off® range of platinum catalyzed emulsion systems, such as Syl-Off® EM 7975 Catalyst Emulsion and Syl-Off® EM 7990 Emulsion Coating, enabling coating of thinner and less refined papers. Innovation for enhanced sustainability Converters and manufacturers worldwide are looking for ways to reduce material waste to improve the footprint of the end products. Dow solutions for enhanced sustainability on display at LabelExpo include advanced solventless technologies, such as the Dow Corning® 2013 Adhesive for specialty pressure sensitive applications. Dow Corning® 2013 Adhesive is a solvent-free silicone pressure sensitive adhesive that, when used with Syl-Off® 4000 catalyst, offers the ability to prepare pressure sensitive constructions at low curing temperatures.
Visit the company at Labelexpo 2017 in Hall 7, Booth 7E35.
More info: