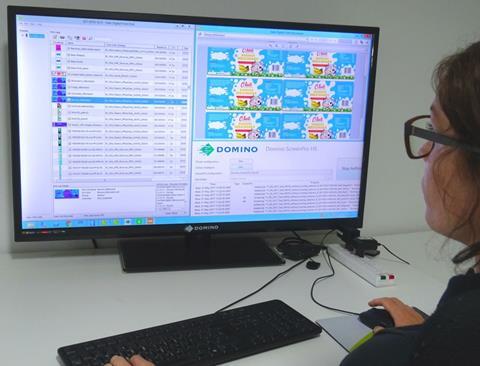 Domino Digital Printing Solutions is targeting the label industry with its latest DFE (Digital Front End) workflow solution designed for the N-Series range of digital colour presses.
With improved operating speed and streamlined automation, DFEv2.0 maintains compatibility with the latest Esko code base and can work with a number of VDP (variable data printing) formats. DFEv2.0's full capabilities will be showcased on the Domino stand at Labelexpo Europe 2017 (Stand 9A60, Brussels Expo, 25th – 28th September 2017).
"Workflow integration is a fundamental component for an efficient digital printing process that should not be underestimated," explains Simon Howes, Product Manager – Digital Printing Solutions at Domino. "The effective management of press time while optimising print quality needs to be guaranteed, especially for brand-oriented sectors such as labelling and packaging."The new screener, Domino ScreenPro, streamlines the workflow by combining several processes into a single JDF workflow, which enhances speed and efficiency as well as enabling full offline VDP operation and additional capabilities within DFEv2.0. When compared to DFEv1.2, the increase in job processing speeds is significant, and has a major impact when using multiple page PDF files for variable data printing. For example, the RIP-to-print ratio of the latest version of ScreenPro is four to five times faster than the previous DFE solution.
The introduction of a new JDF workflow means automation is further enhanced. The need for manual file conversions is removed, while key information such as 'lead-in/lead-out', 'copy count by quantity' or 'print run length' can be passed from the DFE directly to the digital press, keeping operator intervention to an absolute minimum.
"While speed and automation are the two features likely to appeal the most to label printers, versatility also has an important role to play," says Howes. "The new workflow adds the ability to work with various VDP formats, such as multiple page PDF and PDF/VT files for the printing of variable data, barcodes and 2D barcodes, offering the printer a wider range of options to work with."
"With this new workflow, Domino is providing labellers with a comprehensive platform for managing integrated production and there is no better place to showcase the benefits of this technology than Labelexpo Europe," concludes Howes. "We look forward to welcoming visitors to our workflow station on the Domino stand when the show opens in September."
More info: