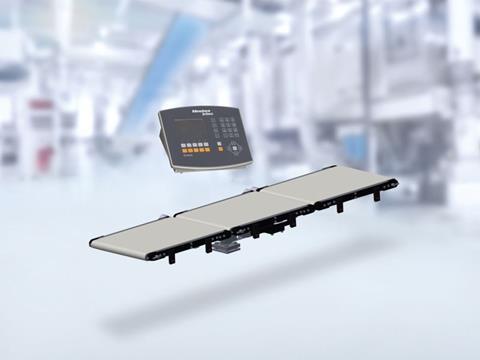 Minebea Intec is now offering an intelligent assembly kit for the integration of checkweighing solutions into machines and installations.
The OEM weighing kit contains all the essential components for constructing a dynamic checkweigher: a weighing table consisting of conveyer belt, SG load cell and motor; a feed and discharge belt for conveying products, and also the complete operating and display unit including software. The weighing kit therefore enables reliable integrity and individual weight checking, for an outstanding price-performance ratio.
The OEM weighing kit guarantees precise weighing results and high processing speeds. Under optimum conditions, the checkweigher is able to achieve a standard deviation of ≥0.1 g. Among other things, this ensured by one component that has been proven thousands of times: the SG load cell was originally used in Minebea Intec's Econus checkweigher, which has achieved global success. The sturdy construction enables the Econus to achieve a throughput of up to 120 items per minute. The operating and display unit contains applications for individual checkweighing and integrity checks, as well as trend control. This means that packaged products be checked, and filling quantities optimised. The OEM/Integrator can choose from four different belt widths, four load ranges and two running directions, to create the ideal assembly kit for their in-line checkweigher, as per their individual requirements. The comprehensive documentation not only contains installation guidelines and an operating manual, but also descriptions of the mechanical and software-related interfaces. This ensures that the checkweighing function can be simply and seamlessly integrated into existing installations and systems.
The assembly kit system offers numerous advantages here: "The OEM weighing kit has been reduced to the bare essentials. It enables the customer to contribute their own knowledge and skills", explains Stefanie Dahmen, Global Product Manager Inspection at Minebea Intec. "Furthermore, in many countries assembly kits are subject to different tax regulations than complete devices. It may even be possible to make additional savings with regard to shipping costs, since there is no heavy frame structure to be transported, and it can be assembled on site according to the customer's requirements." The OEM weighing kit is available immediately.
More info: