Polyester processing specialist Cumapol has unveiled a new polyester recycling technology, CuRe, which it says represents a step-change in the journey towards a fully circular polyester chain. The stated goal of the project, launched in collaboration with Cumapol, DSM-Niaga and Morssinkhof, is to recycle used polyester waste streams for highly demanding applications such as carpets, textiles and food packaging.
We hear a lot of sustainability claims about various recycling technologies for polyesters and their effectiveness for industrial applications. With that in mind, we were interested to know how CuRe works and what makes it different from other processes currently in use.
According to Cumapol, CuRe polyester recycling technology allows it to treat any type of used polyester, remove the colour and turn it back into clear pellets with the same properties as virgin. It says used polyester recycled with the CuRe technology is food grade, and can therefore be applied again in any typical polyester application.
"CuRe it is based on the glycolysis of PET, but depolymerisation goes no further than is necessary for thorough purification and decolourisation," says a spokesperson for the company. "Through the same process, the molecular weight is increased to produce a useful polyester again.
"We can use every kind of polyester starting material including coloured polyester. And there is another option: during this CuRe recycling process, bio-based monomers could be incorporated into the polymer chain to make it even more sustainable."
The company says the process itself sits somewhere between mechanical and chemical recycling, "with the advantage that CuRe has an improved decolouration and purification technology over mechanical recycling, which allows us to make food contact approved PET from non-food contact input. In comparison to chemical processes which are being developed currently, the energy consumption is significantly lower" (see infographic below).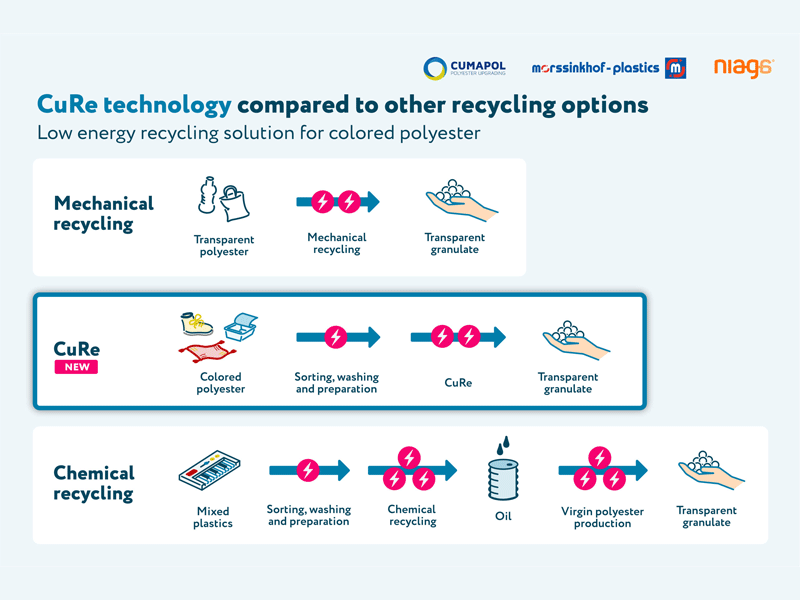 The problem of coloured waste streams
According to the company, one particular benefit of the technology is its ability to efficiently deal with coloured bottles. Current polyester recycling methods on the market require a relatively clean waste stream of clear or light blue polyester bottles. For this reason, it points out, it is not often economically viable to recycle coloured or mixed polyesters. This means a lot of coloured plastic waste will still end up in landfill or incineration.
"It enables a continuous polyester recycling process for various contaminated polyester waste streams – including packaging materials and textile products – and cleans the original plastic material of contaminants and colour."
Project timescale
The CuRe project kicks off with a pilot plant to test the technical financial and sustainability of the new solution. This line is expected to be operational by summer 2019.
Following this, Cumapol says it will need two years to develop the technology on the new pilot line. Existing polymerisation lines will then need to be re-built with, according to the company, a capacity of 25kton/year with the option for global licensing.